SMS marketing solutions for cinemas
Cinemas can use SMS marketing and alert systems to send event information to multiple clients and to receive quick responses.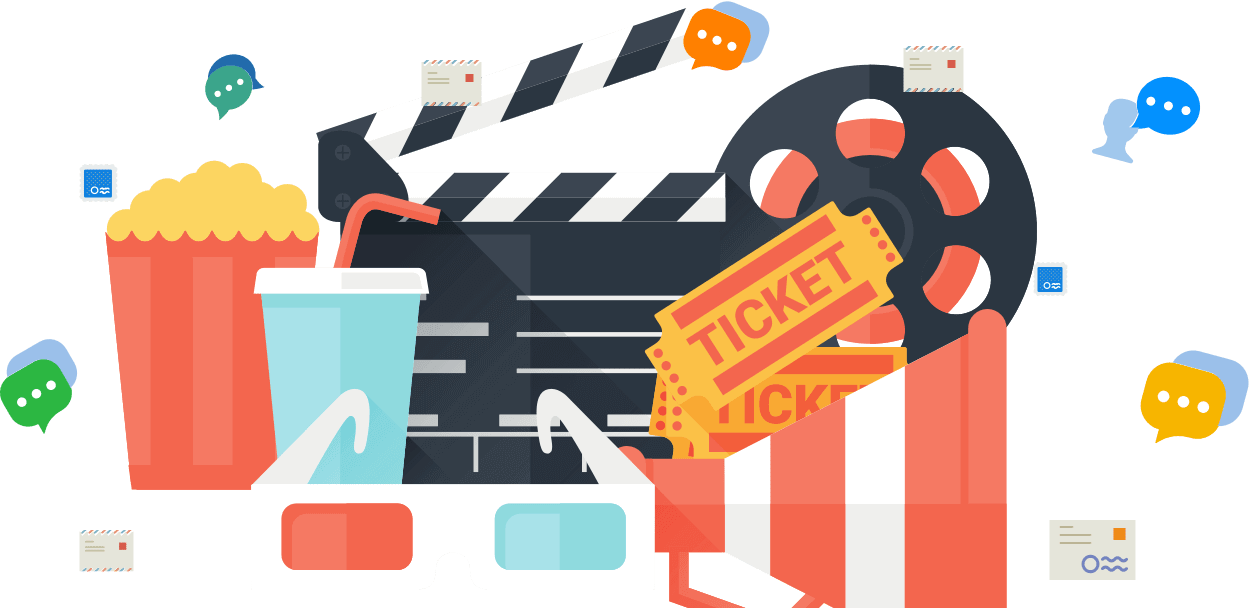 Convince customers to opt-in with exclusive SMS cinema discounts and personalized offers.
Instantly promote upcoming movies or deals to hundreds of customers with personalized bulk text services.
Automatically send event reminders or confirm ticket purchases via text message alerts.
SMS templates for cinemas and movie theaters
Attract more customers and increase sales with our cost-effective SMS templates.
SMS opt-in confirmation
Thanks for purchasing tickets for [movie]. If you'd like to receive text alerts about upcoming movies and exclusive discounts respond to this text with 'SUBSCRIBE'. [cinema]
New movie releases
[movie] is coming to cinemas starting on [date]. Be the first to see it when it launches, and tell all your friends about it. Tickets available at: bit.ly/movie-tickets. [cinema]
Movie with friends (contests)
Hey [name], sign up for a chance to win a movie party package for 4. Text 'FRIENDS' to [number] for a chance to win. The winner will be announced on [date]. [cinema]
Birthday offers
Happy birthday, [name]! Show this text at the cinema today for a free pass to your favorite movie. [cinema]
Monthly schedules
[movie 1], [movie 2], and [movie 3] are coming to the cinema in April. Respond to this text with 'APRIL' for this month's schedule. [cinema]
Movie reservation reminders
Hey [name], don't forget about your reservation for [movie] on [date] at [time]. Your reservation number is [reservation]. Enjoy! [cinema]
Key benefits of movie text solutions
Adoption rates for SMS as a marketing solution have significantly increased over the years. Here are the main benefits of cinema SMS that you should know.
Increase customer loyalty
Keep customers engaged and encourage repeat purchases with perfectly timed promotional cinema discounts and offers.
Boost ticket sales with SMS
Confirm reservations with automatic texts and promote upcoming movies or events to boost ticket sales.
Grow your virtual text cinema club
Display posters or flyers with your cinema marketing ideas to encourage more customers to opt-in to your SMS club.
Movie text campaigns are cheaper than traditional advertising forms. They can also help you streamline staffing.
Stay relevant and visible
90% of mobile user read a text within 4 minutes of receiving it. SMS has significantly better open rates than other channels, allowing you to stay relevant to your clients.
Automate customer support and ticket confirmations with Zapier integrations or native Textmagic features to enhance your productivity and save time.
Text message marketing & SMS solutions for cinemas
Movie text solutions make it easy for cinemas to advertise their upcoming events and improve customer loyalty.
Automate your marketing flows by connecting your favorite apps together and sending targeted texts.
SMS contact forms show 24/7 availability to your customers and improve two-way communication.
Make it easier for customers to confirm their bookings or get in touch using call forwarding.
Incoming messages automation
Create automatic rules for processing customer inquiries, offer support, and manage subscribers.
List building & subscribe forms
Capture mobile subscribers directly on your website with powerful list-building features and widgets.
Allow customers to opt-out of your mobile subscriber list easily with the SMS 'STOP' command.
Frequently asked questions
Haven't found what you were looking for? Contact us now
How can I grow my mobile subscriber list?
Here are a few ideas that can help you grow your SMS cinema list:
Offer great incentives upon signup. A 10% discount is a good incentive, but it's not great. You can promise EXCLUSIVE cumulative deals to new subscribers or organize "text to win" contests to encourage more opt-ins. Never use the same offer twice or on different channels.
Encourage employees to talk about the benefits of subscribing to your mobile list.
Display flyers, posters, and other promotional materials at your cinema.
Combine your movie text-messaging campaign with other promotional channels.
Use Textmagic's list building and subscribe forms to convert site visitors into potential mobile subscribers.
Encourage existing subscribers to get their friends on your list, too (e.g., Bring a text friend and get a free [incentive]).
Important: Keep in mind that you must have permission to send promotional cinema texts to your customers. Otherwise, it's spam and, potentially, lawbreaking. Ask potential subscribers to text short-codes for opt-in or adopt a double opt-in strategy.
How can I promote new movies with bulk SMS?
With Textmagic it's easy to send deals to hundreds of customers at once. Before you start crafting your text, we recommend reserving a unique SMS Sender ID: (This feature is not available in North America.)
Step #1: Sort new mobile contacts into relevant lists.
Step #2: Log in to your Textmagic account or sign up for a free 30-day trial.
Step #3: From your dashboard, navigate to "Compose". Fill out the "To" field with the desired contact list.
Step #4: Set the SMS sender ID as default in the "From" field and write your message. You can also insert a template or include SMS attachments.
Step #5: Click send. If your text requires subscribers to respond, head-over to Services → Automation Rules and configure an automatic response for your desired keyword.