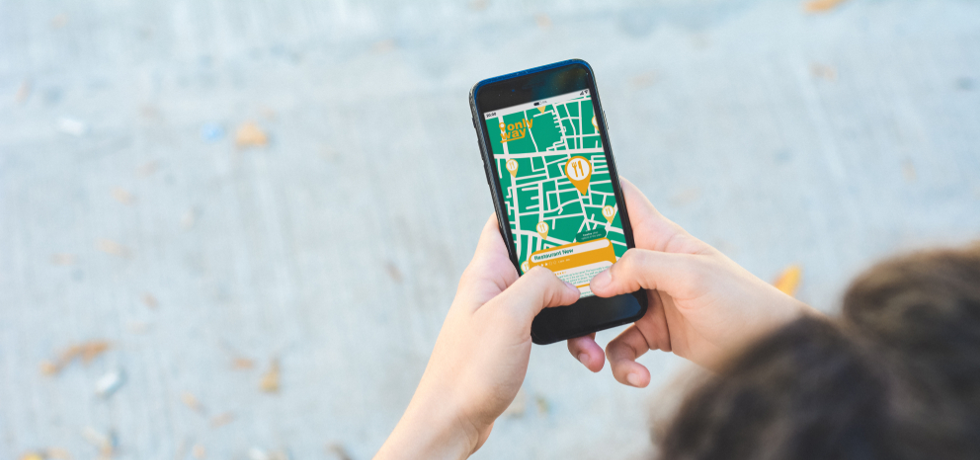 Location-based marketing strategies such as geofencing and geotargeting have emerged as innovative solutions for businesses aiming to tap into location-specific audiences. Though often used interchangeably, geofencing and geotargeting are distinct techniques, each offering unique benefits and applications.
This article seeks to unravel the intricacies of these location-based approaches, delving into their differences, applications, and how businesses can leverage these technologies to optimize their marketing efforts.
So, if you sometimes mistake these two for one another, come along as we compare geofencing and geotargeting. We will also explore how each of them can affect your marketing strategy.
Key differences between geofencing and geotargeting
Geofencing and geotargeting have one major difference that tells them apart. On the one hand, geotargeting leverages the client's location to reach those who meet specific criteria. Conversely, geofencing targets all clients within a particular location or geofence.
But it doesn't stop there. They differ in their complexities, the scope of targeting, precision, and many other ways.
Below, we will compare both practices and explain their differences according to various criteria.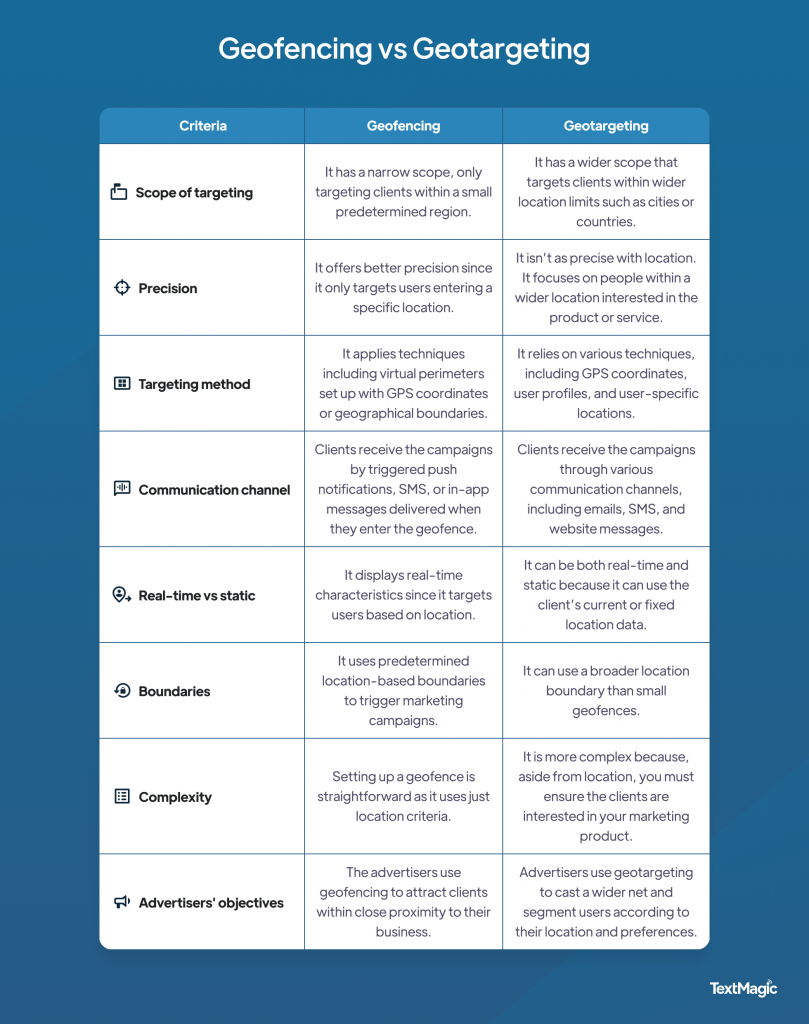 Similarities between geofencing and geotargeting
Although they have their differences, we can't deny that geofencing and geotargeting share various similarities. These shared characteristics and goals often cause business owners and SMS marketing strategists to mistake them for each other.
Location-based marketing: Geofencing and geotargeting are location-based marketing techniques that aim to provide relevant content to the user. This means they provide users within a specific location with content that will pique their interest.

Personalized messages: Both geofencing and geotargeting harness the benefits of personalized messages targeting the customer directly using their first names. The campaigns in both techniques aim to relate with clients at a personal level.

Customer engagement: Geofencing and geotargeting enhance customer engagement and satisfaction. To do this, they utilize targeted and personalized marketing techniques that immediately grasp customers' attention.

Permission requirements: Before sending any messages to the client, geofencing and geotargeting require you to obtain their permission. This enables you to access GPS coordinates and other location data you can use to shape their marketing.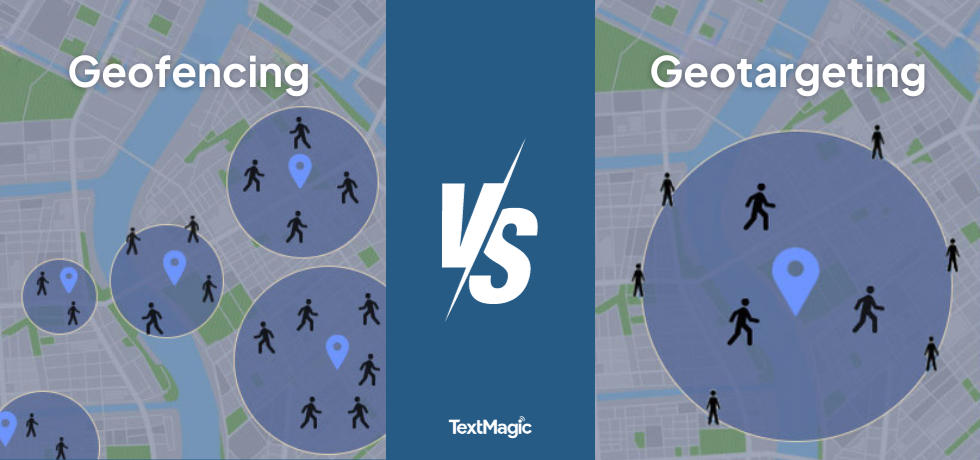 Use cases for geofencing and geotargeting
Now, just as geofencing and geotargeting differ as location-based marketing techniques, they have different applications. Choosing between either depends on your business goals, your target audience, and the nature of your campaign.
SMS geofencing is the best choice for time-sensitive, location-based campaigns or promotions for clients within proximity. On the flip side, geotargeting works for various marketing contexts as long as it targets clients with a specific preference or interest.
Below, we will explain when to use each of these techniques:
When to use geofencing?
Proximity marketing: You can use geofencing to send targeted campaigns and promotions to clients when they close within a close range of your store.

For example, Taco Bell uses geofencing to send campaigns about discounts or promotions to their customers when they come around their premises. This urges the client to snatch the opportunity while it lasts.

Transportation: Geofencing is also a go-to strategy for improving transportation. BMW uses geofencing to switch from combustion to electric mode when specifc cars enter predetermined regions.

So, once the car enters this geofence, the driver gets a graphical display of the navigation for that region while the dar runs electrically. And after it leaves the zone, it switches back to combustion.

Pick-up services: If your business runs a pick-up service, you can adopt geofencing to alert you when customers arrive to collect ther orders.

Panera Bread uses this technique to improve their pickup servicesand not keep the customer waiting long to recieve their order.
When to use geotargeting?
Travel and tourism: Travel agencies like Omni Hotels use geotargeting to inform users about nearby hotels and restaurants. This technique lets them target tourists and travelers who want to explore a city or find accommodation.

Regional promotions: Like McDonald's, you can use geotargeting marketing to promote a regional menu to interested customers.

For example, you could promote a menu curated for people of a particular city or region and personalize your campaigns to catch their attention.

Food delivery services: Food delivery companies such as Uber Eats use their users' locations to suggest restaurants close to them and display delivery options.

This allows clients to find restaurants close by straight from the app and get it delivered to them. Ultimately, Uber Eats boosts sales and improves their ROI using this technique.
Benefits of geofencing
Deciding the best location-based marketing technique for your business requires you to compare your goals with what the technique has to offer. In other words, after understanding its features, you must know its benefits as well.
Below are some benefits of geofencing to your business:
Improved sales: Geofencing is one of the most effective ways to boost your sales. The concept allows for proximity marketing, which means your primary targets are the clients around your business.

So, since they are closer to your physical store, your promotions would have a better effect and push them to grab the opportunity so they don't miss it. Thus increasing your sales significantly.
Target customers effectively: Geofencing allows you to focus on your customers using personalized messages and targeted promotions. With this technique, you can map out the ideal time to send the campaigns to the clients to produce results.

Personalized ads: With Geotargeting, you can get your customer's attention using personalized messages and promotions. You can also include their first name in the campaign or suggest products according to their preferences.

This helps boost customer engagement and loyalty. And in the long run, it increases your brand awareness as well.
Competitor influence: Geofencing is an effective location-based marketing technique that can help you stand out. In fact, you can use it to direct customer traffic towards your business instead of the competition.

Although we've mentioned a few above, the benefits of geofencing are boundless. You can check out more of these benefits on our dedicated SMS geofencing article.
Benefits of geotargeting
From enhanced ROI to building retargeting plans, the benefits of geotargeting are numerous. Below, we'll discuss a few:
Enhanced ROI: Geotargeting helps you reduce costs by advertising to people interested in the product. Thus, it helps enhance your return on investment (ROI) while ensuring you don't exceed the budget.

Wider market reach: In the geotargeting strategy, you can target customers within wider geographic boundaries, such as cities and countries. This casts a broader net and increases your chances of attracting more interested customers.

Campaign optimization: Since the campaigns target specific clients interested in the product, geotargeting helps optimize it even further. It allows you to segment your audience and curate your campaigns accordingly.

Effective retargeting: Geotargeting marketing allows you to effectively retarget your clients after they have engaged with your brand. Over time, this enables you to build your customer loyalty and brand image.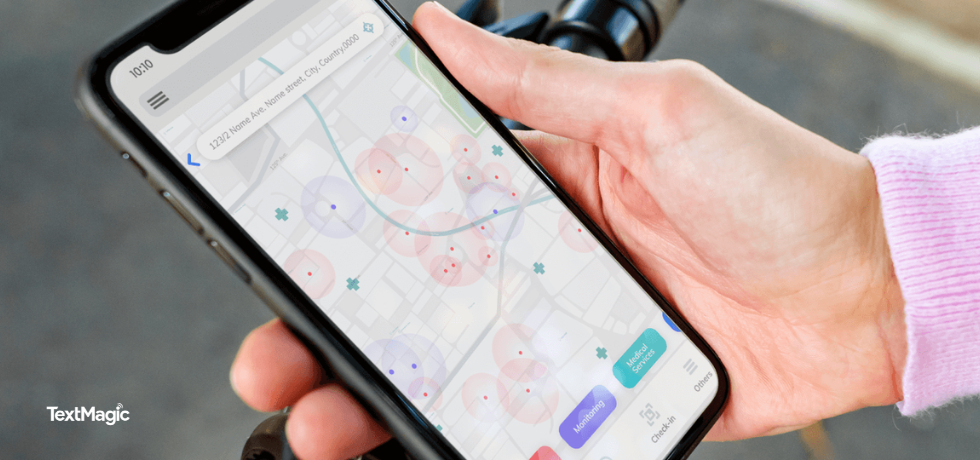 Considerations
Both geofencing and geotargeting allow you to reach people where they are and use their location to send them promotions. However, though this might seem like a blessing to the business, it could raise some customer concerns.
So here are some things to consider when adapting geofencing or geotargeting:
Customer privacy: While setting up your geofence or adopting geotargeting, it is important to consider your client's privacy. Before attempting to access their location, you could use a mobile opt-in to get their permission.

Marketing budget: Geofencing incurs costs since you're looking up the location of a particular client to know when they enter your geofence. Geotargeting also incurs costs due to advertising and data usage.

Thus, while adopting either geofencing or geotargeting, you must measure the cost implication and how it would affect your budget.
Integration with existing systems or platforms: Your geofencing or geotargeting software is a major determinant here. It's best to choose one that works with your already existing systems.

Messaging and location regulations: Always check that along every step of the way, your geofencing or geotargeting practices comply with relevant regulations.

Breaching text messaging laws, including the General Data Protection Regulation (GDPR) and the Telephone Consumer Protection Act (TCPA), could attract fines.
Conclusion
A well-crafted geofencing campaign can drive foot traffic, boost sales, and enhance brand loyalty within a defined physical perimeter. Meanwhile, geotargeting's flexibility and ability to deliver tailored content to a broader audience can help expand your reach and build long-term customer relationships.
As technology continues to advance and consumer behaviors evolve, savvy marketers may find value in combining both geofencing and geotargeting strategies to create comprehensive location-based marketing campaigns. The key lies in understanding your audience, leveraging the available tools, and staying agile in an ever-changing landscape.
Whether you choose the precision of geofencing or the personalization of geotargeting, these location-based approaches remain powerful tools for businesses looking to connect with their audience in meaningful and impactful ways. Ultimately, the success of your location-based marketing efforts will depend on your ability to adapt, innovate, and engage your audience where it matters most—right where they are.
Cezarina Dinu
Content Marketing Manager at Textmagic, seamlessly integrating SEO strategies, UX, and data analysis for maximum audience reach.
Get the latest news from us
Subscribe to our newsletter to get all updates to your inbox.
Related articles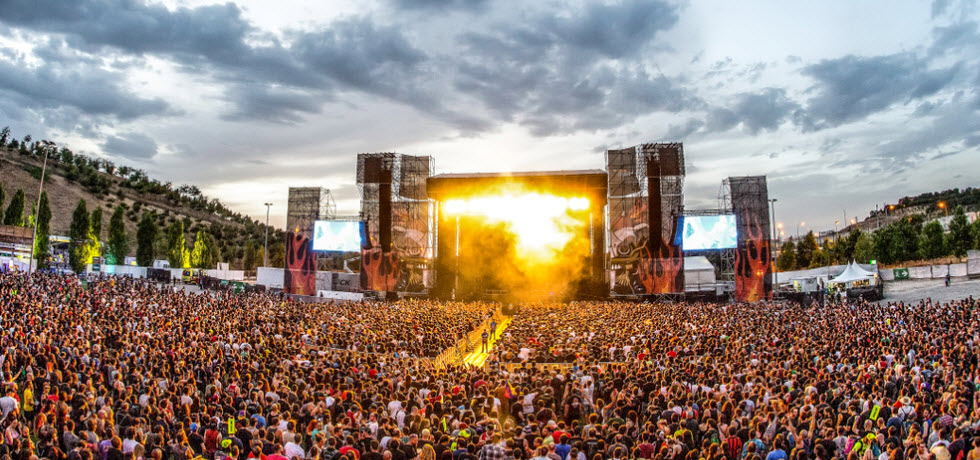 ---
---
---
---
---