SMS Software for PC & Mac
Send text messages via your desktop computer using TextMagic Messenger – a two-way bulk SMS software application.
Bulk SMS Software
Send bulk SMS directly from your PC computer or Mac.
Simple Group Texting
Import your mobile contacts and send group text messages.
Mail Merge Tags
Include personal details in your texts with mail merge tags.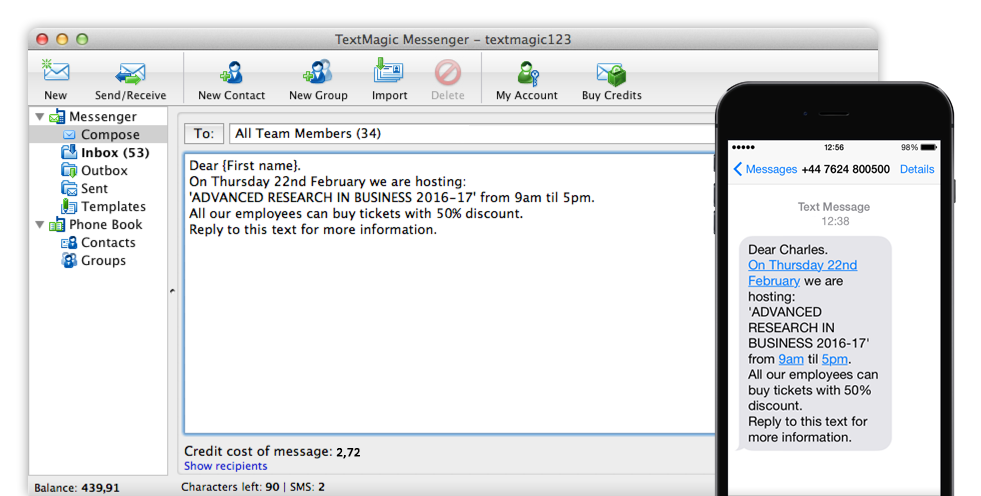 TextMagic helps us to provide a more efficient service to our clients, at the same time as improving efficiency for us with our time management.

Using TextMagic has allowed me to free up my time and get a better grip on my appointments by confirming with clients in a way that is convenient to them.

Jessica Yeager
Property Solutions Manager
Send Texts from Your Computer
Send text messages straight from your PC computer or Mac with the easy-to-use TextMagic Messenger
Custom SMS Templates
Use templates to avoid repetitive writing of the same message hundreds of times.

Track Your Sent Messages
Never lose a text message. TextMagic Messenger saves every sent text for easy tracking.
SMS Inbox on Your Desktop
Have a two-way conversation with your recipients – replies land straight in your Messenger inbox.

Simple Group Text Messaging
You can sort mobile numbers into groups and send text messages with a few simple clicks.
---
Why to Use the TextMagic SMS Software for PC & Mac
Many of our clients prefer to use the SMS software instead of the web app. Here are the main benefits of TextMagic's SMS solutions for PC:
Quickly send & receive texts
The PC app will notify you when a new message is received and make it easy for you to respond.
Store all your messages locally
All your sent and received messages are stored within the TextMagic SMS software, so you will always have access to them.
Instantly important contact lists
You can use the Import feature to automatically import and encrypt contact information.
Frequently Asked Questions
Before installing the TextMagic SMS software for PC or Mac, make sure you check out our frequently asked questions:
How to use the TextMagic SMS software for PC & Mac?
TextMagic's text service for PC and Mac consists of a small desktop application that you can install on your computer to quickly send and receive text messages. The SMS software can be set up in a matter of minutes. Here's how:
Step #1: Log in to your TextMagic website account and navigate to Services -> Downloads. You can download the SMS software for PC or for Mac by clicking on the green download button.
Step #2: Open the .exe file to begin installation. Once the program is installed, log in to the app using your TextMagic credentials.
Step #3: Using the app, you can compose new text messages, check your Inbox, Outbox and Sent folders, create text message templates and update your contacts or groups. You can also important contact lists using the specific feature.
Is the TextMagic software package secure?
Upon installation, your computer will display a security warning, asking you if you really want to run the file. Click Yes. The TextMagic SMS software is 100% secure, so you needn't worry about any malware or viruses.
How is information stored on TextMagic's SMS software?
Sent and received text message information, contact lists and templates are stored locally, on the computer. Please keep in mind that TextMagic Messenger requires an internet connection to work. In other words, information already available on the computer can be seen, but it will only be updated once you connect to the internet.
What format does a mobile number need to be in?
To ensure that text messages are sent correctly through our SMS software, you have to use the 'countrycodemobilephonenumber' format. Examples: 44797123458 (UK number), 19171234567 (US number).
How can I create and use SMS templates?
Click on File -> New -> Message Template to create a new template. You will have to assign a name to your template, write the message and click Save. Using tags will help you personalise your texts. Message templates can be accessed from the menu to the left (Messenger -> Templates). Select your template, insert the recipient's number and click Send.
How can I import contacts in the TextMagic SMS software?
Navigate to File -> Import Contacts in the TextMagic messenger. You have several options here: to import as .csv, vCard, Microsoft Outlook, MagicMessage Phonebook (*.tbp), etc., depending on your preference. You can also use specific file encoding for your contact information. Click Next to complete the process.
How can I uninstall the SMS software?
The mass texting software can be uninstalled like any other application.
For Windows users: Navigate to the Add or Remove Programs tab in the Control Panel, locate the TextMagic software and click the Uninstall button.
For Mac users: Drag the app from the Applications folder into the Trash. Choose Finder -> Empty Trash to permanently delete the app.
Now you are ready to send text messages from a Mac or PC. If you have further inquiries, feel free to contact us. We'd love to help!
---
---