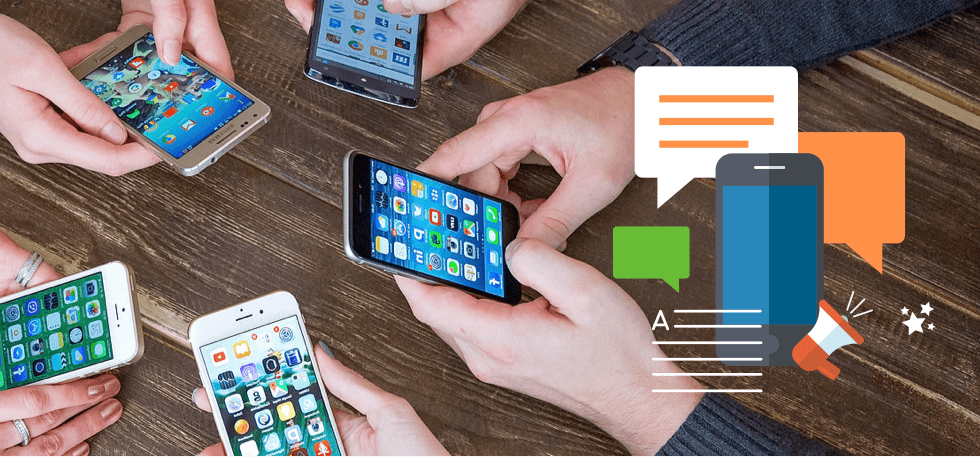 What do Mark Twain and SMS have in common? That reports of their death have been "greatly exaggerated". While people keep talking about how the rise of messaging apps will kill SMS, the data doesn't support that conclusion.
In fact, it's the opposite. People are still using text messages and they love them. Recent research from Statista shows that 68% of UK WhatsApp users prefer using SMS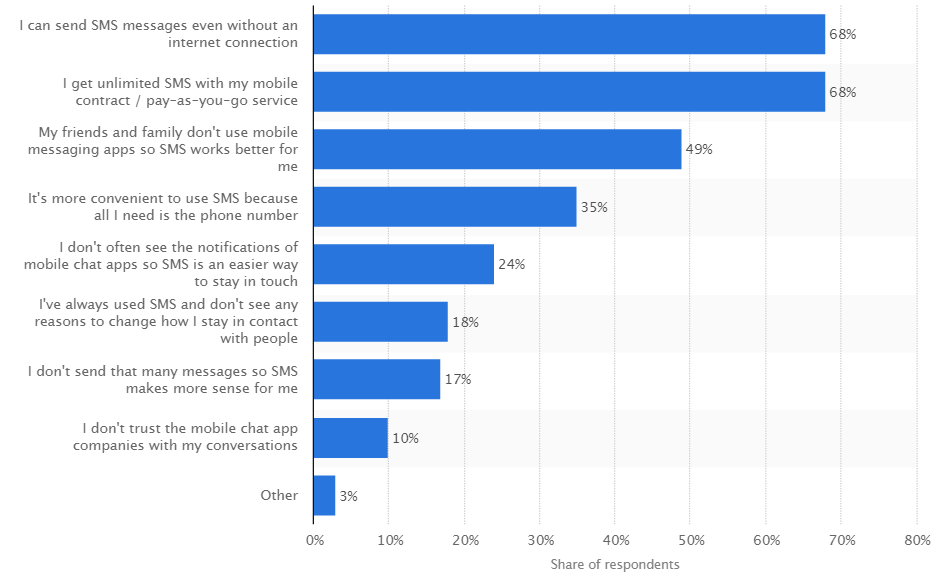 Surprised? You shouldn't be. Here are seven reasons why SMS remains useful technology.
1. Messaging Without a Data Connection
One of the most important advantages of SMS, according to 68% of those surveyed by Statista, is the ability to send SMS messages without an Internet connection. Don't you just hate it when you hit the cap on your data plan or when you need to send an urgent message but can't get online? SMS removes this problem, so you can connect and send messages whether you have patchy connectivity or no Wi-Fi at all.
2. Reaching Feature Phone Users
There are also plenty of people still using "dumb phones" (or feature phones). Recent data suggests that 590 million non-smartphones will be sold in 2015, and not all of these are going to technophobes. Some are sold to millennials, while others make great starter phones for first-time phone buyers, whether they're teenagers or seniors.
There are many parts of the world (like Africa, for example) where solid 3G connectivity is still a rarity, let alone 4G or LTE. In addition, mobile phone users need phones that match their budget and will hold a charge for days.
If you're going global, SMS is the best way to reach your customers.
Click To Tweet
3. Avoiding Message Fragmentation
There's another reason why SMS works – there are so many mobile messaging apps that it's hard to find a single app that everyone uses. Try to organise an event and there's always one person who doesn't use the app you want to use, or who has it installed but never looks at it.
In Statista's survey, almost half of those polled (49%) said that because friends and family didn't use mobile messaging apps, they found SMS a better way to stay in touch.
4. Platform Independent
With SMS, you don't need to accept a friend request (as with some social messaging apps) or download the same app as someone else (like most messaging apps) in order to stay in touch with someone. You don't even have to be part of the same mobile phone network.
SMS is platform independent – all you need is the phone number of the person you want to reach.
Click To Tweet
5. Enables Conversation
Many mobile contract packages allow people to send unlimited text messages. Perhaps they assume that SMS is a throwaway item; however, unlimited messaging means that not only can you send texts to your customers, but they can reply without worrying about the cost. It's another reason why SMS is one of the best ways for you to reach your customers.
6. Message Visibility
Related to that, unlike other messaging, most people read text messages most of the time – and they read them fast, too!
The stats show that most people access text messages within 90 seconds of getting them, and 90% of text messages are actually read.
Email marketing and push notifications can't match that. If you use SMS, you avoid message blindness.
7. Customer Comfort
Using SMS is also about catering for customer needs. Some 18% of phone users don't want to move away from technology that they have always used.
Research from Ring Central shows that 72% of people prefer SMS texting, 74% find SMS easier to use and 56% find it faster than the other alternatives. And while 71% of people use texts for quick responses, a significant 29% have full conversations via text.
Summary
These seven reasons show why SMS is great both for mobile device users and for the businesses that want to reach those users. SMS also enables users to connect to other technologies and to have secure access to other sites (via two-factor authentication messages). The bottom line is that even though people are using messaging apps (with Facebook taking the lion's share), they use SMS too.
---