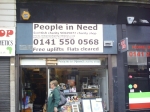 Glasgow, East Dunbartonshire
United Kingdom
1 Employees
Charitable Organizations and Foundations
About People in Need
People in Need runs a charity shop in Glasgow, and funds humanitarian aid projects for people in Moldova and Romania. We keep in regular contact with volunteers in both countries, and consider their suggestions regarding people and projects for us to provide assistance to.
The Business Challenge
We needed a means for volunteers within the charity to leave messages for each other, despite other commitments at various times. The archiving of old messages, with a search function, allows previous messages to be checked and reviewed.
How TextMagic Helped
The TextMagic PC software, with the login option on the website, which displays well on a tablet, allows texts to be sent immediately, or scheduled until a later time to avoid disturbing people late at night. This is particularly useful when texting Romania, which is 2 hours ahead of the UK.
The Results
Using TextMagic provides the convenience of a PC, saves time, and is a low cost solution with a minimal commitment. The redesigned website is impressive, and the monthly summary, by email, is an useful extra.