Direct response marketing (DRM) focuses on making a sale as soon as a prospect sees your marketing material. The goal is to get a return on investment as soon as possible.
The way to achieve this is by coming up with a personalized offer, writing a punchy copy with a powerful call-to-action, and showing it to your target audience via email, social media ads, or other effective channels.
What is direct response marketing?
Direct response marketing is any marketing technique designed to get an immediate response from your target audience. It is a precise tool that prompts your customers to take action: reading a blog post, downloading a lead magnet, buying a product, or subscribing to a newsletter.
There are four key components to direct response marketing:
A personalized offer.
Clear and compelling content.
A sense of urgency.
A call-to-action (CTA).
These components bring a number of advantages that are essential for successful direct response marketing:
It is trackable and measurable. It calls for a specific action to be taken, which makes it easy to track and measure how many people took that action and what the profit was.
Targeted and personalized, which results in higher conversion rates.
Flexible. Direct response marketing campaigns can be quickly and easily adjusted based on the results of the campaign.
Cost-effective. Because your marketing campaign is targeted and data-driven, your upfront advertising costs are lower, and you can stop using a specific channel if it brings poor results.
7 examples of direct response marketing channels
Direct response marketing can work in different channels, with the only requirement being a call to action that directs consumers toward your campaign goals. Here are seven effective channels to use in your direct response marketing campaigns.
1. Search engine marketing (SEM)
Search Engine Marketing (SEM) involves a business using paid ads to appear on search engine results pages.
SEM can be a powerful way to reach new customers and drive revenue because it shows your ads above organic results on the search engine results page (SERP). In some cases, users have to scroll a couple of screens down to see organic results.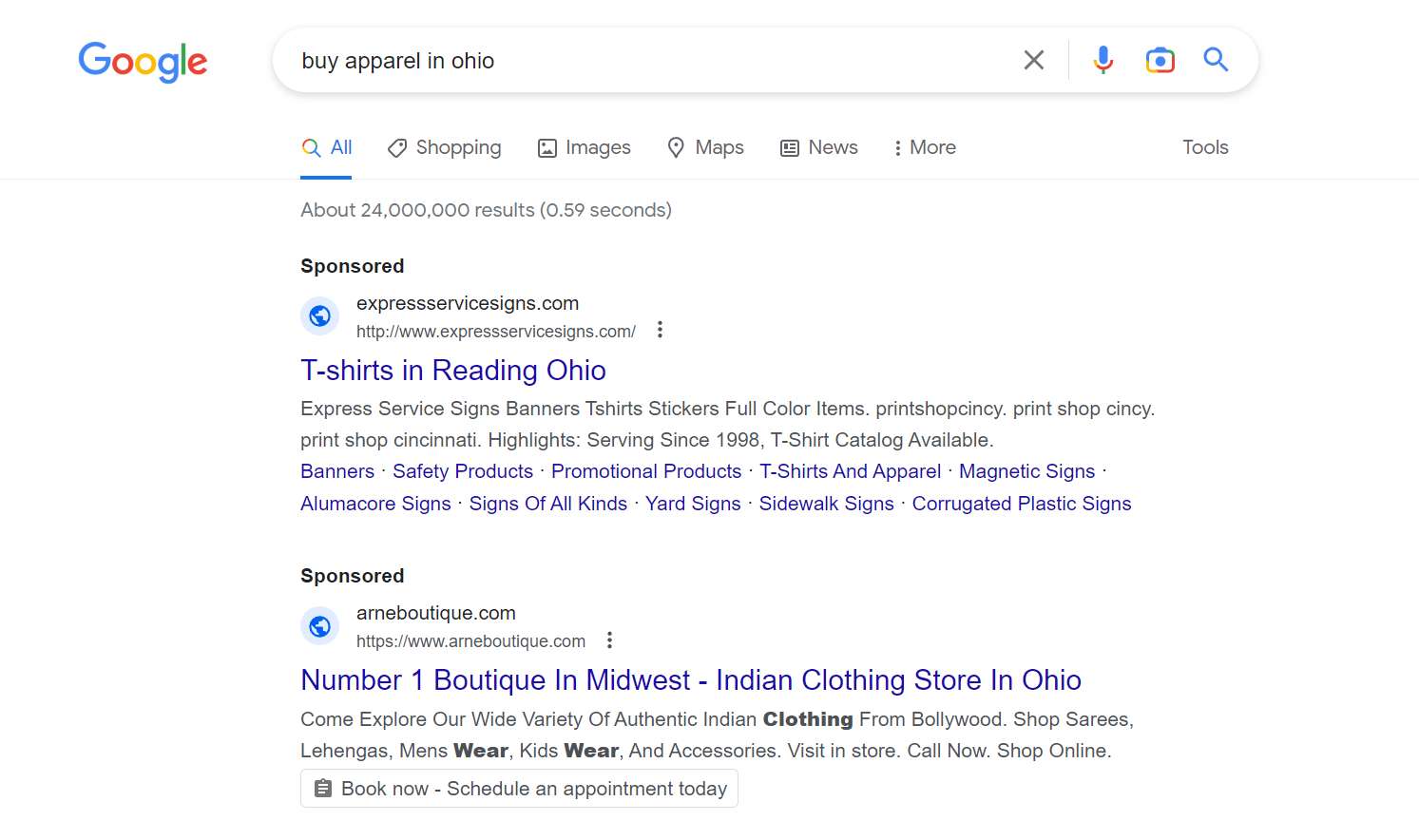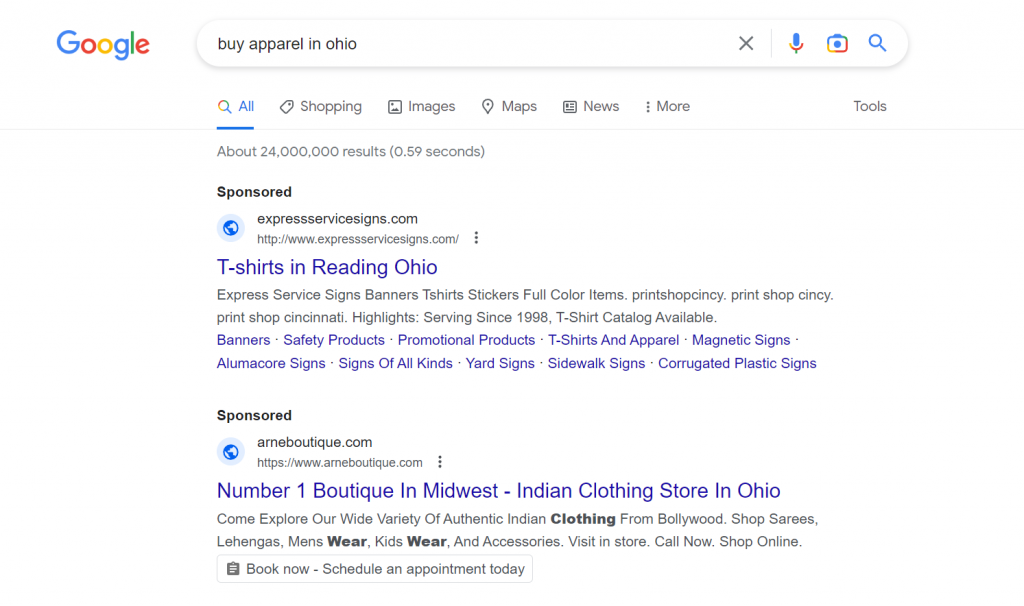 It's also very versatile — you can find and drive interested audiences to your content (blog posts, articles, videos, infographics), landing pages, or e-commerce products, and at the same time, retarget users that have already visited your website or engaged with your business before with ads.
The advantages of paid ads are:
They provide results almost instantly.
People see the ads before they see search results (meaning they may follow an ad if it answers their search).
They allow for very precise targeting based on specific keywords and phrases.
Keyword research is the first step to a successful PPC campaign because it allows you to identify and target the right audience — i.e., people who are ready to buy.
The best keywords to target differ based on many factors, like the search intent behind them, their search volume, competition, and more.
If you're starting paid keyword research from scratch, you can use SE Ranking's keyword search tool , which has the ability to generate a list of keywords (including long-tail keywords and questions), show the search volume for each, access keyword competition, and more.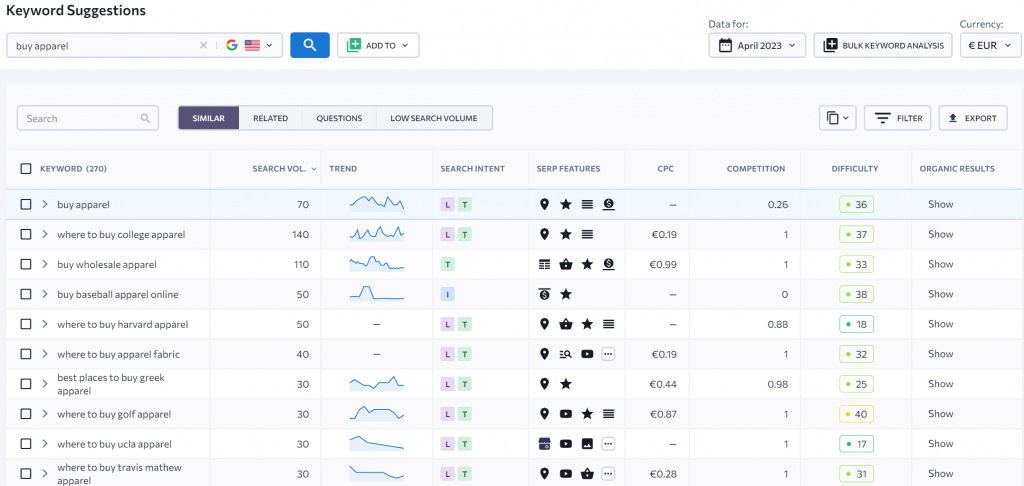 Build a list of keywords you can target and prioritize those that have high search volume and low competition. This will maximize ROI as you'll end up paying less for bids and potentially receive more traffic.
When developing copy for an SEM direct response ad, make sure it is concise and includes a clear CTA.
2. Referral programs
Word-of-mouth marketing (WOMM) is a very effective channel to promote your brand and drive sales. The 2020 study by Kantar showed that friends and family are the most trusted source of information for 93% of participants.
A typical example of a referral campaign is to ask your current customers to refer their friends and family to your brand.
This works best if you offer an incentive — a discount or a gift for both your customer and the people they bring in. Here is an example of a referral DCM campaign sent via email on Valentine's Day.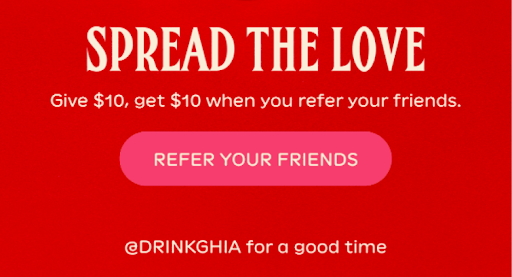 Source: Really Good Emails
Email marketing, which we'll discuss in more detail later, is the easiest and most effective way of running a referral campaign because it's trackable. You can track open rates and conversion rates in your email marketing software, just make sure you count transactions over a large period of time — around a month.
Some users will do a bit of research before making a purchase, so having a longer time to track conversions will prevent false negatives.
If you have an app, try using push notifications to inform users about the promotion. Another way is by adding an element to your website, preferably in the footer, header, or sidebar, so that it appears on every page. This method is harder to track, though.
3. Text message marketing
Text messaging is an easy way to inform your customers about the offers you have. According to the 2023 State of Business Texting Report, 70% of participants said texting is the fastest way to reach them, while 68% of people read every text they get, even spam.
This communication channel lends itself to direct response marketing more than others because people's email inboxes are most likely cluttered, and text messages may receive more attention. It's also faster, as many people will read a message within 5 minutes of receiving it.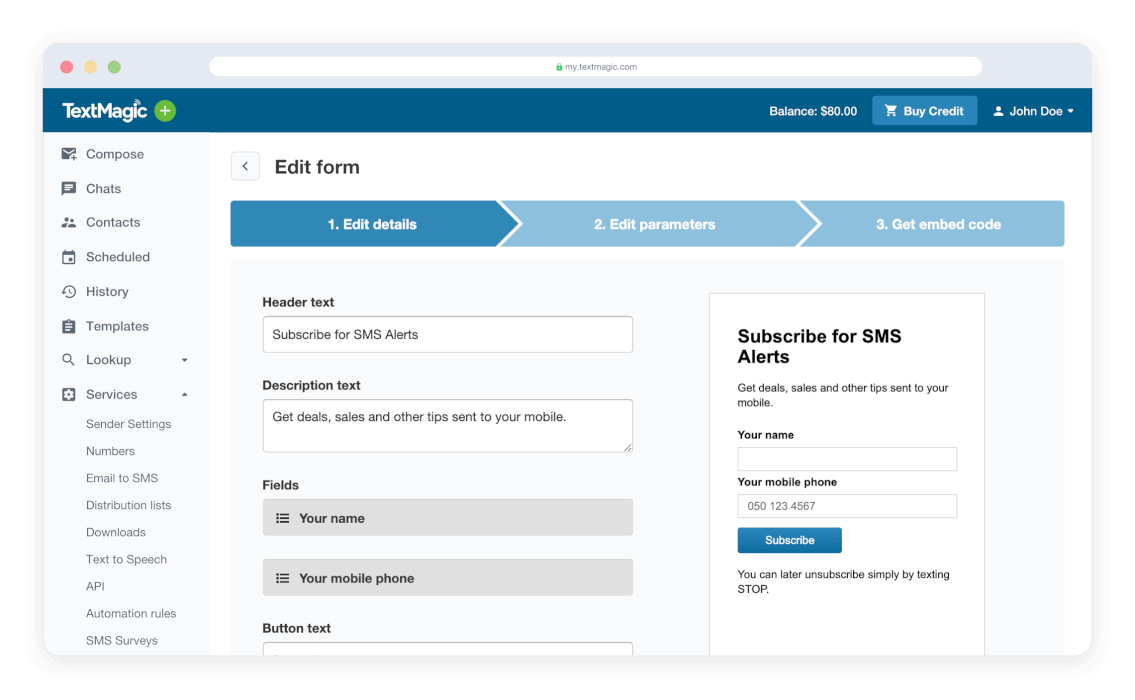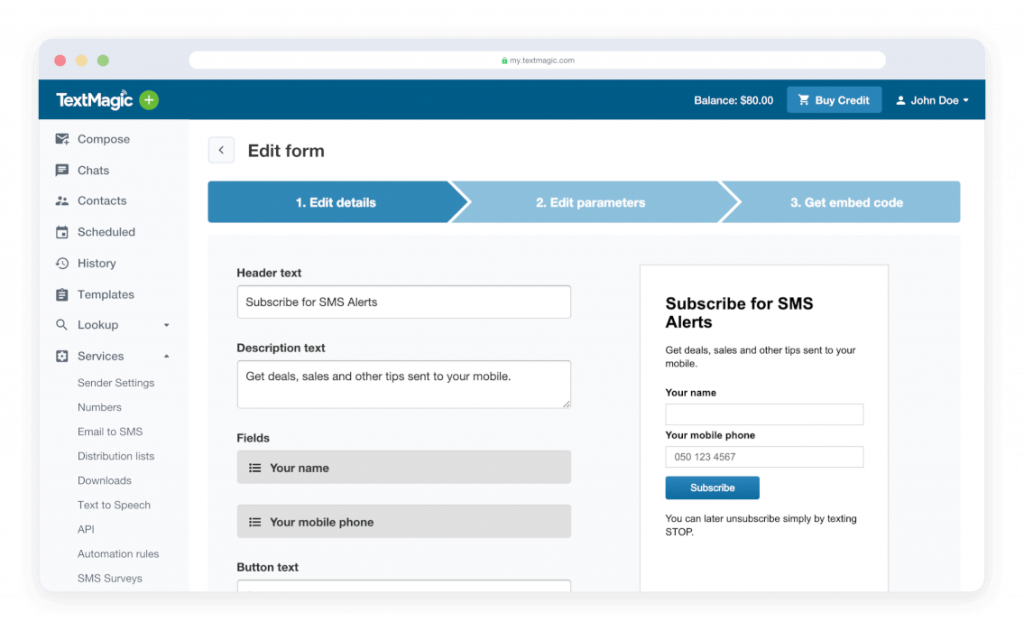 To use text message marketing, you need your audience to sign up to receive marketing communications from you. The best way to get people to sign up is to offer a dollar or percentage discount, according to the Attentive 2021 consumer survey.
It is also best to integrate text messaging with marketing analytics software to segment your contact list and keep your messages personalized and targeted.
The most efficient way to use text message marketing is with a tool like TextMagic, which helps with text message automation. It allows you to integrate sending bulk text messages with Zapier and combine your SMS marketing with the rest of your marketing efforts.
4. Email marketing
Email marketing is a type of direct marketing that uses email to communicate to your customers about your products or services. It consistently stays at the top of marketing channels in terms of return on investment.
Email marketing campaigns can be segmented, targeted, and personalized to a great extent.
Depending on the tools your business uses, it's also possible to automate some types of email campaigns, schedule them to go out on specific days and at certain times, send new customer onboarding emails, post-purchase "Thank you" emails, and so on.
Proper email tools allow you to also send follow-up emails, which is important when doing email marketing, as 55% of replies come from follow-ups.
Here's a good example of direct response marketing in email, a sales email announcing the last day of the sale.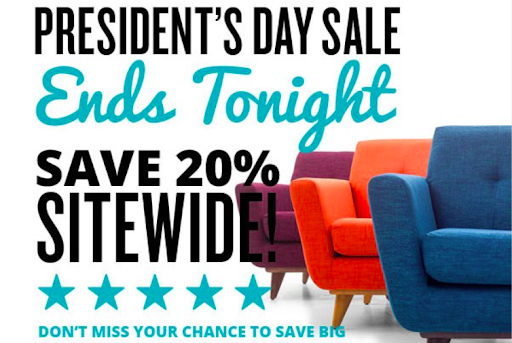 Source: Really Good Emails
It has an element of fear of missing out and a clear call to action — two things you need to make a sale on the spot.
5. Chatbots & push notifications
Chatbots have already become a must-have in e-commerce, and with good reason — they help you communicate with your customers instantly, in real-time.
Chatbots can be used to answer customer questions without involving a human employee, but there's another benefit. You can use chatbots to send messaging to open chats with customers on social media.
It's shorter and more direct than an email, but some customers prefer to be contacted via social media. In this sense, chatbots work almost like push notifications. Push notifications are clickable pop-up messages that appear on users' browsers.
There are three important reasons why push notifications are a good choice:
Regardless of the operating system, the device they are using, or which tab of the browser they have open at the moment, people will still receive push notifications as long as they're online or have their browsers running. They can even appear on wearables (i.e., smartwatches).
There are a few different types of push notifications for different scenarios, including rich push notifications — a type that allows you to add up to 3 clickable links, images, emojis, and up to 2 CTAs in your notification.
Users only need to take one easy step to receive the notifications — visit your site and click "Allow" when they are asked if they would like to receive alerts. Then, you'll be able to collect their device ID and start sending them notifications.
You can ask people to sign up for push notifications only when they visit a specific page instead of a whole website. This allows you to segment the audience and pursue hot leads, convert leads to customers, or do retargeting.
6. Social media marketing
In 2021, over 4.26 billion people worldwide were using social media, a number projected to increase to almost six billion in 2027. Social media ads let you run very precisely targeted campaigns based on location, age, gender, and interests.
It is possible to have an advertising campaign targeting the list of contacts (leads & customers) you have in your CRM with very specific, personalized offers.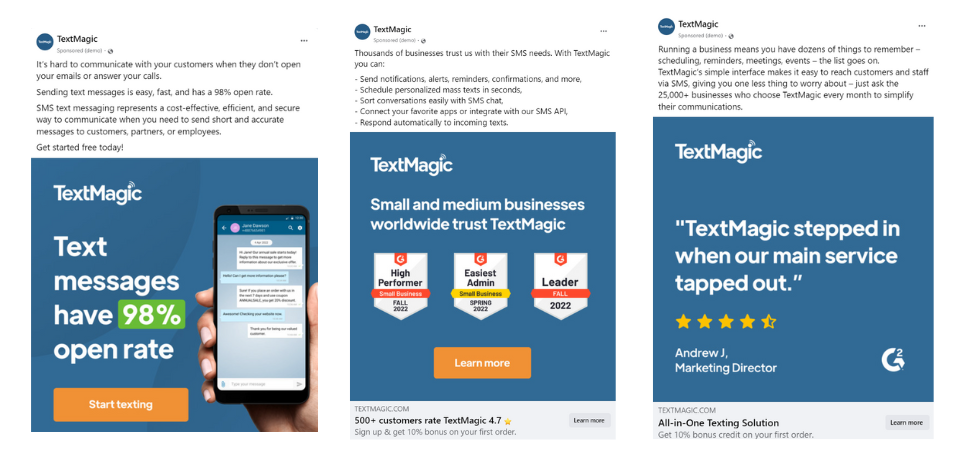 Retargeting people who visited your website, a specific landing page, or abandoned a shopping cart on an e-commerce website can get your sales (and ROI) up even faster since you'll be showing your ads to a "warm" audience who already know you and your products.
This makes social media one of the most powerful marketing platforms for direct response marketing campaigns.
7. Upselling
When your customer is on the checkout page and ready to buy, you could offer them a more expensive version of their chosen product or a couple of products that are frequently bought together.
This is known as upselling — offering your customer a superior and more expensive product or service than the one they are currently in the process of buying. For example, a SaaS business could encourage people to take a pricing plan one tier above the one they initially chose.
In most cases, for an e-commerce website to do this, all it takes is installing a plugin that automatically suggests alternative products. It's a good option if you are looking for a quick and not too-complicated way to increase the average spend at your store.
Ready to start using direct response marketing for your business?
Direct response marketing is a good choice if you want to run campaigns that get you results fast. It works through many different channels, including search engine marketing, social media ads, email, text message marketing, push notifications, chatbots, and the modern version of word-of-mouth marketing — referral programs.
In addition, most of the channels can be combined and used together — i.e., email and referral programs. All of this makes direct-response marketing one of the best choices in the marketer's toolbox.
---