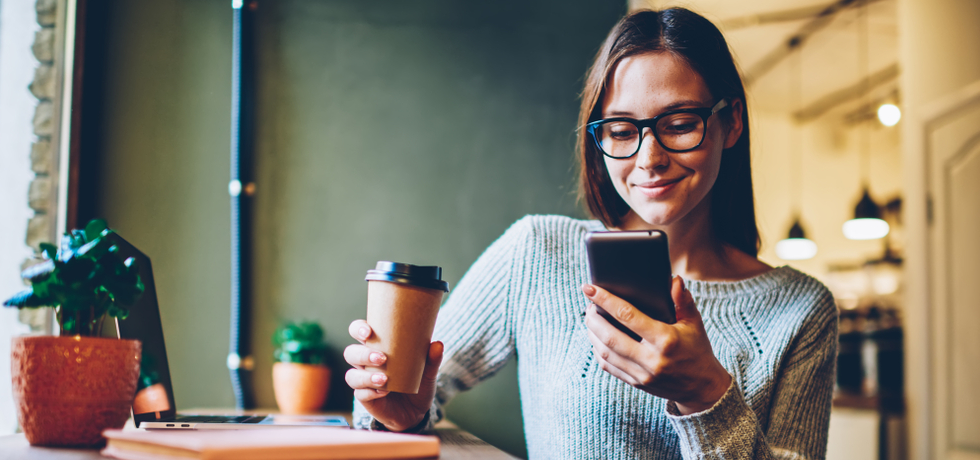 Sending a notification to a user's mobile phone is one of the most reliable ways to get a message out quickly. SMS and push notifications both enable you to do this, but each has its own advantages.
When should you use them, and what are the differences between push and SMS notifications?
SMS notification: what does it mean?
An SMS notification informs recipients about an event, such as an order update or service alert. This communication method is popular with customers. 86% of US consumers opt in to SMS notifications.
They work like any other text message, arriving in the recipient's text inbox. This means they fall under the same regulations as other business texts.
Like other text messages, notifications have a character limit of 160 characters. Some business SMS software can extend this limit. For example, TextMagic enables messages of up to 918 characters.
Text alerts can be scheduled through a text messaging app or triggered by other services. For example, an ecommerce ordering system could trigger a confirmation text when users make a purchase. Text notifications can also be used for appointment reminders, emergency alerts, SMS marketing campaigns, and more.
Push notifications are also widely used to send quick alerts to users, but they are not the same.
What is a push notification?
Push notifications are powerful engagement tools. Because they are almost impossible to ignore, they can quickly become intrusive, especially if they do not share actionable information or follow best practices.
Pop-up messages appear on the user's phone screen when you send push notifications. They are sent by an app installed on their phone, but the app does not need to be running.
Apps need an opt-in from users to receive push notifications on Apple devices. Android devices do not have this need, but both let users disable notifications manually through their phone settings.
There is no hard character limit for push alerts, but most phones will cut your message off after 200 to 300 characters.
SMS vs. push notifications: 5 key differences
SMS notifications and push alerts may seem similar, but they are not the same. Several key differences define how and when to use each effectively.
Push notifications need an app

Push notifications only reach people who have your app installed and notifications enabled.

As a result, they are a great way to send updates and alerts to active customers. However, they can't reach new leads or customers who don't have your software running on their mobile devices. So they are not effective as a marketing channel.

Text notifications are two-way

SMS notifications let people reply to your alert with a message of their own. This is vital when you need an urgent response, such as confirming an appointment booking via SMS.

Push notifications are temporary

Once a user reads your notification, it disappears from their device. This means you can't keep a history of messages. Texts have 98% open rate and the conversation history remains on your device or mass texting app forever.

Other apps can send SMS notifications

App integrations enable any of your systems to trigger an SMS alert. TextMagic has over 750 Zapier integrations and a gateway API to create your own if needed.

Push notifications are less regulated

Push notifications are not covered by texting regulations. They can be sent at any time and as often as you want. This is usually a bad idea, though, as getting alerts in the middle of the night or for no reason will annoy your users.
Should you use text message or push notifications?
Knowing these differences will help you pick the correct method for sending alerts. The right method depends on many factors, including your business, your users, and the type of message you want to send.
When to send SMS notifications?
Not every customer has your app installed, and many businesses don't need a mobile app at all.
In these cases, SMS notifications are the best way to get a time-sensitive message out quickly and reliably. All you need is a business phone number. This makes SMS notifications a helpful tool to re-engage customers not actively using your services with a tempting offer.
The option for two-way communication makes SMS notifications a great way to enable customer feedback using text messages.
Include a keyword that customers can reply with to start an SMS survey. Asking for feedback in key interactions makes it easier for customers to tell you how they feel.
SMS notifications are ideal when you need a fast response. For example, using text to send service outage alerts could enable customers to text for further details.
Argus Radiology uses SMS message notifications to send immediate service status alerts when a problem occurs in their online systems, enabling them to respond instantly to issues.
The possibilities of SMS integrations can also improve your internal communications:
Combine text messaging with your work calendar to send employees weekly schedule updates and meeting reminders, and enable last-minute schedule changes via text.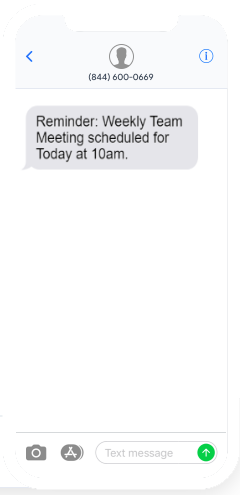 This can be useful when coordinating field employees such as delivery drivers. For example, NADC Logistics sends text messages with instructions to their drivers, which allows them to have a data trail.
SMS notification examples
SMS notifications have many uses. Check these templates to craft the perfect customer alerts for your business:
Delivery confirmations

Coupons and discount links

Booking confirmation

Wishlist alerts

Thank you messages

New menus and product ranges

Customer reminders
SMS notification best practices
SMS notifications are covered by the usual texting regulations, which outline the texting practices people expect from businesses.
Customers must opt in before you can text them. Opt-ins should always include the type of message they agree to. If a customer agrees to receive text updates about service, this doesn't mean you can send them unrelated offers.
Most regions only allow you to text customers between certain hours, such as 8am to 8pm.
Your SMS notifications must clearly specify a way to opt out via a keyword such as STOP.
These rules don't specify how often you can text. However, customers won't like constant alerts they don't need. Besides, frequent messages can trigger spam filters to block further texts.
Segment your mailing lists to ensure you can send SMS notifications to the right groups without spamming everyone else.
Creating mailing lists for each type of alert makes it easy to move customers into and out of each group as needed. This also makes it easier to personalize your text templates. Personalized messaging can increase customer loyalty by 28%.
When to send push notifications
Push notifications are the way to go for alerts and messages related to your app. For example, a sale alert could send users straight to the discounted items in your store when tapped. This is useful when reminding users to perform in-app actions.
Since rapid SMS notifications can trigger spam filters, push can be a useful alternative where your customers need frequent alerts. For example, users of a trading app may need frequent alerts to manage their trades.
SMS notifications are simple with TextMagic
Knowing when to use push or SMS notifications ensures your alerts are effective and expands your options to communicate and provide a better service.
Push notifications offer all the functionality you need for app-related messages, as long as you have the coding ability to set them up.
For everything else, the reach of SMS enables a broader range of uses. With TextMagic, it only takes minutes to integrate SMS notifications with your business.
---