SMS marketing solutions for beauty salons
SMS can be a true budget-saver, especially for up-and-coming beauty salons. You can use SMS to encourage more appointments and find new customers.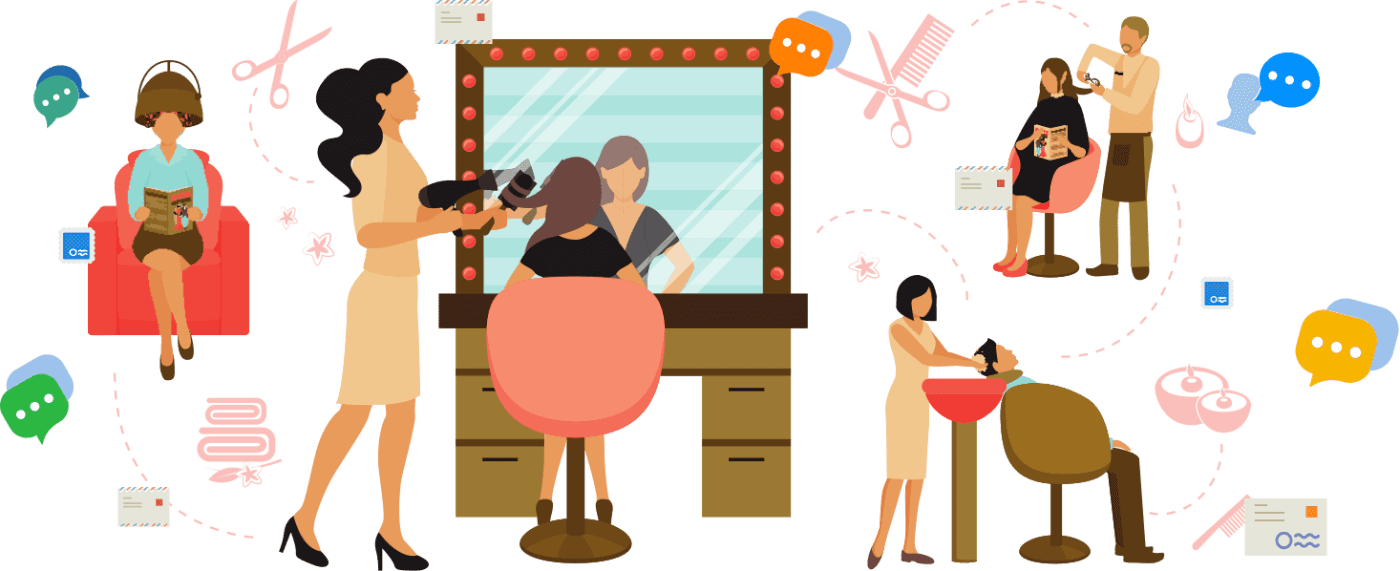 Automate appointment reminders
Integrate with your scheduling and appointment apps to automatically send reminders, update your schedule, and fill empty slots.
Send SMS blasts to hundreds of clients at the same time and send updated price lists or new services as SMS attachments.
Encourage feedback with SMS polls
Get instant feedback from your clients with surveys or SMS short links to feedback forms. Reward loyal clients with VIP incentives.
SMS templates for hair and beauty salons
Attract more customers and increase sales with our cost-effective SMS templates.
Special offers
Dear [name], hop into [month] with our 3 for 2. Buy any two products, and get the third one free. Check out our eligible products at bit.ly/discounted-products. Offer expires on [date].
[salon name]
Last-minute appointments
[name], treat your hair to a new cut and enjoy a free blow-drying if you book today. Available times:
1. [time 1]
2. [time 2]
Respond with 1 or 2 for instant booking. [salon name]
Online bookings
[name], get 10% off when you book online: bit.ly/salon. Visit our site to see available times. [salon name].
Reply 'STOP' to opt-out of our list
Appointment reminders
[name], don't forget your 2-hour make-up appointment with [specialist name] at [time] today! Please confirm your appointment by replying 'YES' or by calling [number] to reschedule. See you soon! [salon name]
Loyalty discounts
Dear [name], thank you for your last 5 appointments. Enjoy a FREE deep tissue cleaning facial as a gift from us. Schedule your appointment using our calendar: bit.ly/calendar.
Informational messages
Beauty tip of the week: Drink at least two liters of water to maintain skin youthfulness and elasticity. Read more about skin care during the summer on our blog: bit.ly/skin-care. [salon name]
Key benefits of hair salon SMS solutions
SMS solutions for hair and beauty salons are scalable and easy to implement.
Better management of appointments
This is probably the most important feature of SMS for beauty salons. Use automated SMS to reduce the number of no-shows and to squeeze in last-minute appointments.
More repeat customers & positive feedback
Following up with thoughtful messages, running feedback SMS polls, and loyalty discounts will encourage customers to choose your beauty salon again and again.
Effective marketing on a budget
Most hair and beauty salons struggle with small marketing budgets. SMS will enable you to use this budget to its maximum potential.
More referrals from happy clients
Send timely SMS follow-ups with unique discounts to encourage customers to recommend your beauty salon to their friends.
Cost and time-effective communication tool
The most time-consuming part of beauty salon SMS marketing is the initial set-up. After that, it runs on its own and at a minimal cost.
Can also be used for internal operations
SMS also has great operational value, allowing you to communicate schedule changes or last-minute news to staff members.
Text message reminders for beauty salons
You have infinite chances to reach new customers for your hair or beauty salon, using one of our many SMS features.
List building & subscribe forms
Capture more visitors from your site and transform them into mobile subscribers with customizable subscribe widgets.
Mail merge & SMS templates
Make every client feel like a VIP by sending personalized texts. Save time on hair salon marketing with SMS templates.
Incoming message automation
Automate beauty or hair appointment scheduling and customer support requests with SMS auto-responders.
Integrate booking apps such as YouCanBook.me, BookingKoala, Acuity, 10to8 booking, etc., to automate appointments.
Send SMS alerts or offers for your beauty salon at the right time by using the Textmagic scheduling feature.
Make it easy for potential customers to reach out with a simple call by setting up voice call forwarding on your Textmagic account.
Frequently asked questions
Haven't found what you were looking for? Contact us now
How can I send my salon's updated price list via SMS?
It's super easy to send documents via text:
Send documents as SMS attachments: from the "Compose" tab, insert your document as an "SMS attachment". Textmagic will convert your file into a clickable link that can be opened directly from the text message.
Send price lists and service offers as short links: if your salon also has a site that is regularly updated with new prices or offers you can insert short URLs into your texts. Textmagic integrates with tools such as bit.ly and Google URL shortener.
How can I automate beauty and hair appointment reminders with SMS?
Studies show that sending a reminder message 24-48 hours before an appointment can increase appointment adherence by 70%.
Here's how you can automate hair or beauty appointment reminders with Textmagic:
Step #1: Log in to your Textmagic account or sign up for a free 30-day trial.
Step #2: Head over to the Zapier Integrations page. Textmagic integrates with multiple calendar and booking apps (e.g., BookingKoala, YouCanBook.me, etc.). Select your favorite app from the available Zapier integrations.
Step #3: You will have to define a rule between the Textmagic app and booking/calendar app to send out your appointment reminder automatically. Here are a few examples of Zapier flows:
Trigger: New booking → Action: Send message (for confirming new bookings).
Trigger: Updated booking → Action: Send message (for appointment updates).
Trigger: Time before/after appointment → Action: Send message (for appointment reminders).
Trigger: Appointment rescheduled/canceled → Send message.
Note: Some integrations are only available for specific booking apps, but you can integrate Textmagic's API directly into your software for more advanced automation features.
OPTIONAL: If customers reply to cancel their appointment, you can create a secondary rule that automatically deletes the appointment from your calendar, thus giving you more control over your schedule.