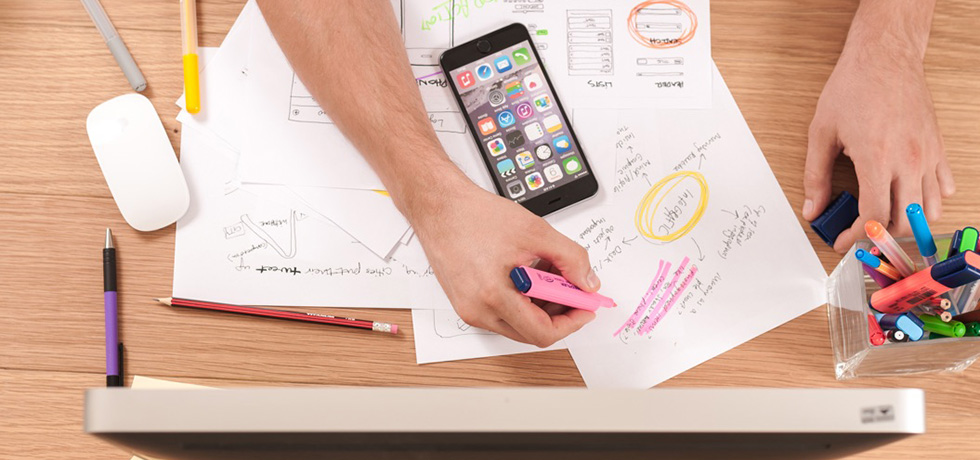 Have you heard of the Red Queen's Race? In C.S. Lewis' Alice in Wonderland, the main character Alice finds the Red Queen running in place and not going anywhere, as though she were on a treadmill. Alice asks the Queen, "What's up?", and she gets this response:
"It takes all the running you can do to keep in the same place. If you want to get somewhere else, you must run at least twice as fast as that!"
This scenario has been used to describe the surreal experience of having everything around you move faster and faster, so much so that it feels like you're moving backwards – and it might, in fact, feel this way when you're a small business struggling to compete in an internet-based economy. There's a ton of tasks to juggle, from store management to ensuring a high quality of service and, on top of everything, marketing your services. Even chugging along at full speed, you still feel you need to go twice as fast to get anywhere.
So how do you finally get somewhere worth going to? Automation certainly helps; for instance, using software to do basic tasks for you like budgeting, shift management and so on. But perhaps the most important area of improvement you can make is the way you schedule appointments. If you can give customers the power to schedule their own appointments with your business – usually through your website or Facebook page – then a lot of magical stuff will start happening. Not only will this allow customers to book appointments when you're too busy to pick up the phone, but they can also book after hours too. It's a bit like adding more lanes on the freeway to let the traffic move faster. If customers have more chances to schedule an appointment, you'll probably see more appointments as a result.
Online scheduling is where the rubber meets the road; it's where your website visitors transition into paying customers. So without further ado, here are five more reasons why your business needs online appointment scheduling:
1. Most customers start their journey online
Long gone are the days of the almighty phonebook. Nowadays, when people need something, they usually start with a Google search, e.g. "best salon in smalltown USA", or "music lessons for kids" or "quick plumbing repair". Also, studies show that 81% of consumers research products and services online before they buy. Obviously, if your business doesn't have a website, then it's even harder for people to find you. Appointment scheduling software usually works with your website by giving visitors a chance to schedule an appointment right there and then, from their keyboards while their interest levels are at their highest. Without it, you'd have to rely on your customers having an interest level greater than the effort it takes to book an appointment over the phone.
2. Nowadays, customers prefer to contact a business online vs over the phone
Ask anyone you know how they feel about it, but most people don't like talking over the phone with strangers. We feel a certain pressure to speak clearly and effectively, and when we make mistakes or fumble our words, we feel judged. This also applies to getting technical support when things go wrong, to getting questions answered about a new product and to scheduling an appointment with your business. For most people, it's just much easier to write an email or to respond to a text message rather than to use the phone. In addition, text messaging gives you the opportunity to edit out the typos to get your query right or at least the chance to blame autocorrect if something does go awry.
3. People buy immediately after they search
It doesn't take long for a typical customer to decide they want to buy something once they've found it online. In fact, 55% of online searches made from a smartphone will turn into a purchase in one hour or less. If your business offers online scheduling, then you're better positioned to see more appointments from this kind of impulse-driven buying power. It's simply a matter of reducing the friction involved in getting someone to book an appointment; for instance, from a 5-10 minute phone call down to just a few clicks online in a matter of seconds. The shorter time it takes to book, the less effort and therefore the greater likelihood that the customer will go through with the purchase. As an added bonus, customers who pay for their services upfront are more committed to showing up, reducing the overhead cost you bear from no-shows or late comers.
4. Online scheduling is a form of customer engagement
You think know what customer engagement looks like? It's emails, text messages, Facebook posts, tweets, snail mail, even the free coffee in the lobby or the candy jar on the receptionist's desk. Basically anything you do to get your customer thinking about your business and appreciating it in some way. And it generally pays off in unseen ways. Take for instance the 71% of customers who are more likely to recommend a business after having a positive interaction with them over social media. Online scheduling offers different ways to engage customers, such as through automated appointment reminders. These usually come in the form of text messages or emails that go out to customers to remind them of an upcoming appointment, either days or even just hours in advance, e.g. "Don't forget – you have a dentist appointment in the morning". They remind customers, in a very unobtrusive way, that your business is happy to help them out in managing their day-to-day schedule.
5. Consumers today want experiences, not stuff
Increasingly, consumers are less interested in buying a new TV or an IKEA sofa, and they're more interested buying concert tickets, steak dinners, haircuts, guitar lessons and the like. This is called experiential buying, or the purchase of intangible things that you'll gain special memories from, rather than just material goods that will fill up your apartment or house. According to Forbes, 78% of new consumers (the "millennials") are spending their money on experiences. Why does this matter? Because these consumers will often need to book appointments or make reservations to get the experiences they want. And, perhaps most importantly, millennials are more likely to be the digital-savvy spenders that rely on Google searches and their smartphones to find your business in the first place.
It's time to start running faster
Finding a scheduling app for your business is easy. However, finding the right scheduling app may require some trial and error. There are plenty of free options to choose from, and they're worth investing a few afternoons out of the week to test drive for yourself. But doing nothing isn't an option. Like the Red Queen, you've got to pick up the pace if you want to get anywhere, and online scheduling just might be that shot of adrenaline your business needs to surge forward.
---