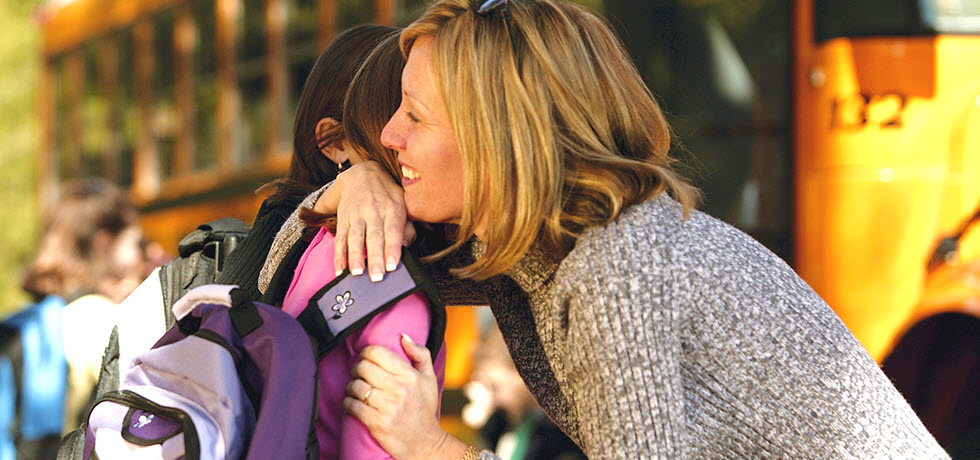 Besides Christmas, Back-to-School is the second busiest shopping season of the year. New clothes, shoes, sporting equipment, electronics, school supplies, books, etc. all mean that retailers can prepare to cash in.
Back-to-school season is therefore also an ideal time for you to increase both your SMS opt-ins and your business revenue. Here are some expert tips and examples of successful back-to-school SMS campaigns:
Increase Your Opt-Ins Before Starting Your Texting Campaign
The more opted-in customers you have, the more successful your SMS marketing will be. So, start by advertising your text marketing campaign on in-store signage, social media, newsletters, radio, television, newspapers, magazines, and billboards. Tell people how to opt-in for exclusive back-to-school promotions; for instance, "Text Back 2 School to 987654 in order to take advantage of exclusive text promotions." Generate awareness of your campaign and the benefits customers can gain to increase your opt-ins.
Market to Both Millennials and Parents
Today's college students are the key demographic for text marketing. Millennials are the most likely to respond to text promotions, and using SMS to market back-to-school products to them is sure to result in higher revenue for your business. Promotions for clothing, electronics, and school supplies are all going to yield results with the college-bound millennials.
For instance, Macy's ran a back-to-school promotional contest via SMS to win a $500 gift card for customers who typed in DORM as a short entry code to the competition: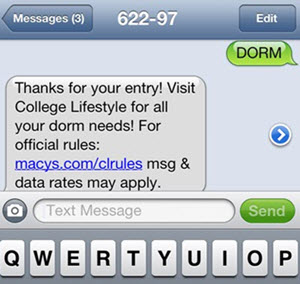 They also provided links via SMS to an advertising campaign on their mobile-optimized website. Furthermore, they built up their SMS database by including a call-to-action button on their website to sign up for the SMS sweepstakes. Their intelligent use of cross -channel integration led to a successful back-to-school season for Macy's.
And of course, you'll want to be marketing to parents of high school students and younger students as the school year approaches.
In another example, Kohl's ran a "Win great things" sweepstakes via SMS. Customers texted to enter the contest and were given a link to a site with details on what they could win.
Nordstrom ran a campaign where customers shared their favorite purchases with other clients via SMS in a genius customer-generated advertising push.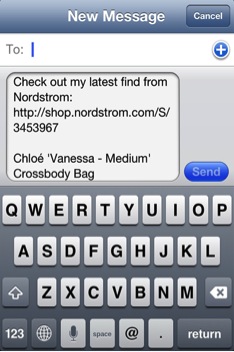 Abercrombie & Fitch launched a SMS promotion where customers would only receive the discount redemption code once they had entered the store in order to increase in-store traffic and redemption rates.
Besides discounts and promotions, you can offer other benefits to your SMS clients, such as an easy exchange/return for items purchased and free shipping. The more you treat your SMS customers like the VIPs they are, the more customer loyalty you will generate and the wider your SMS base will become.
Non-School Related Promotions
Just because your business doesn't fall under the traditional back-to-school niche doesn't mean you can't ride the retail tidal wave that's approaching. Here are some ways that non-school related businesses can take advantage of promotions as well:
Restaurants: People will need to take a break from shopping to eat and drink, so send them a promotion for your establishment to direct some of the extra customer traffic your way; for instance, "Back-to-school shopping this weekend? Stop by XYZ Pizza in the food court for 25% off any pizza with this coupon."
Student discount: No matter what type of business you have, you can always take advantage of back-to-school season by offering student discounts at your store.
Pampering: Send parents a promotional coupon for a massage or spa day for them to relax after all the back-to-school mayhem has passed.
How to Time Your Text Messages
One thing that some businesses have a hard time understanding is the immediacy of SMS. It's a different animal than email and needs to be used differently; whereas email advertising usually gets sent out days or weeks before a promotion. That's because people are slow to open their emails – if they open them at all!
SMS, on the other hand, is a lightning-fast form of communication. Besides the fact that nearly 100% of texts are opened, the majority of text messages get opened within three minutes of being sent.
Those who do best with SMS marketing take advantage of the knee-jerk last minute nature of it. Let your competitor make the mistake of sending a message about a promotion a week before the sale. You're going to send yours the night before or the morning of the sale so the information is fresh in the customer's mind.
Or better yet, send them a notification when they're near your store. Today, with SMS API and mobile app integration, you can automate your mobile marketing to send your clients notifications when they're in range of your business.
Take full advantage of this during back-to-school season with targeted messages about back-to-school promotions to bring in nearby clients to increase sales.
Keep the Promotions Going Even After School Starts
Students may not know all the materials they'll need before school starts, so the shopping will continue after the school year begins. Therefore keep your promotions running through September to take full advantage of the back-to-school season. This will also help you unload any extra back-to-school merchandize as you continue to advertise sales and discounts.
Takeaway Strategies:
Increase opt-ins with cross-channel media (social media, in-store signage, newsletters, etc.).
Offer SMS-only promotions: One of the things that customers like about text marketing campaigns is exclusivity – being able to take advantage of a deal that is only available to SMS customers. By working this angle, you will increase your mobile opt-ins, thus building a larger SMS customer base for future sales and promotions.
Run a contest: People love the idea of free stuff, so a contest or sweepstakes is an ideal way to generate interest in your business and to increase you SMS opt-ins.
Market to both college-bound millennials and parents. These two groups are your target audience for back-to-school promotions. Keep both in mind when building your SMS campaign.
Non-school related businesses: Take advantage of the back-to-school rush by promoting relevant discounts and deals for students and parents.
Perfect your timing. Take advantage of SMS's immediacy and continue your promotions after the students have returned to class.
Use these tips to run a successful back-to-school SMS campaign!
---