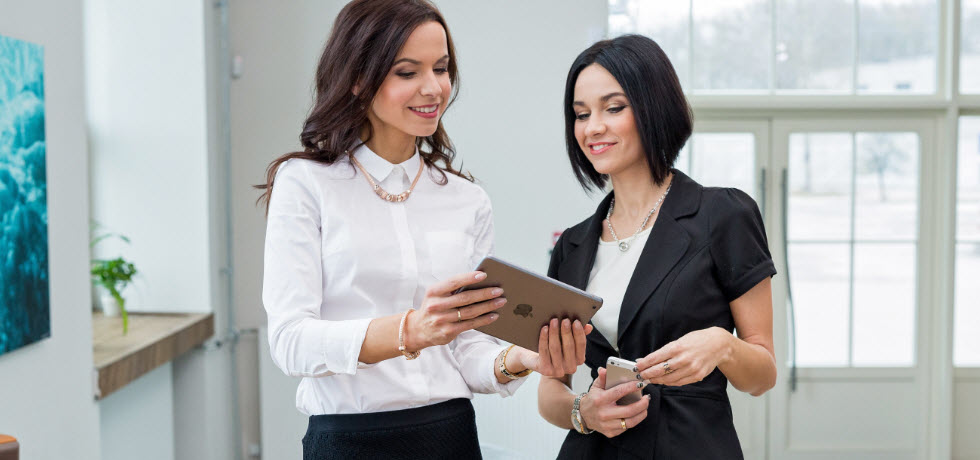 Planning a text message campaign requires meticulous work. And when the activities you've planned are going to be time-sensitive, things can get hectic. You dive head-first into creating promotional text messages fast to meet the deadline, but you end up sacrificing quality. You forget to personalize the message, include a call to action, or — even worse — specify important details. We know what happens next: conversion rates of your SMS efforts plummet.
To help avoid that, we have created our SMS Marketing Periodic Table, which is a guide slash checklist for planning a text message campaign. It was inspired by the Content Marketing Periodic Table created by Chris Lake, a former content director at Econsultancy. If there is an option available for content marketing, why isn't there one for SMS? We decided to tackle the matter by creating this table.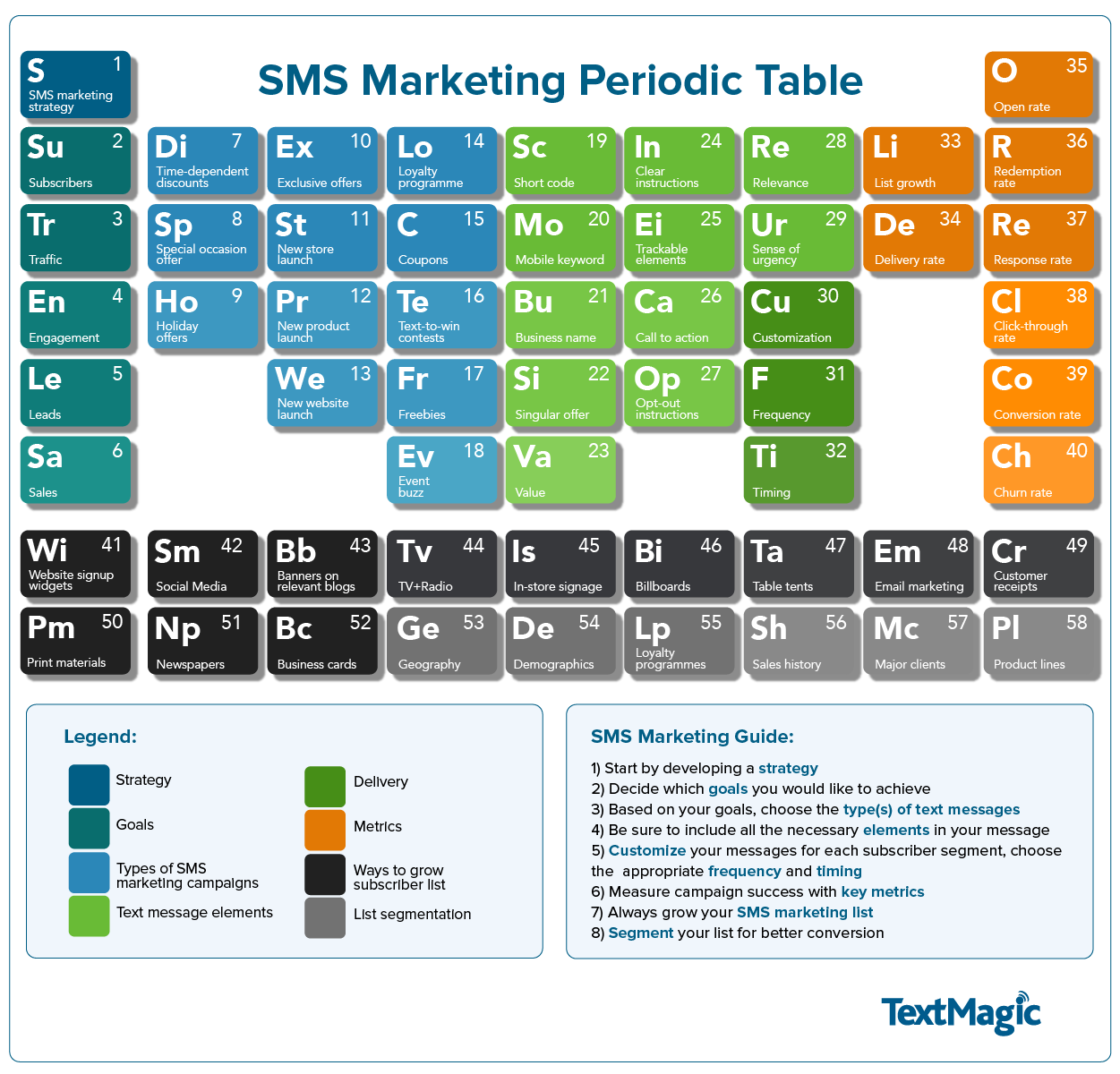 How to Use the Periodic Table
All the instructions are outlined in the SMS Marketing Guide box. You should follow each step and go over every element, whether it's choosing a goal or checking if you've included all the necessary information in your text message. Let's take a look at the categories in the table.
SMS Marketing Strategy
Outlining a clear strategy is paramount. It can be retaining existing customer relationships or building new ones, or it can be supporting the email campaign. Either way, the strategy must align with your overall promotion goals.
Goals of the Campaign
Writing texts off the top of your head without specific goals would be a mistake. Choose what you want to achieve — such as obtaining new subscribers, driving traffic to your website, or cultivating leads — and then compose your messages accordingly.
Types of Marketing SMS Messages
Now that you've picked a goal, it's time to choose the appropriate type of message. Let's assume you've decided to grow the level of engagement. Writing a text offering participation in a loyalty program would be a good idea. And if your goal is to grow sales, you can choose between "Holiday Offer," "Time-Dependent Discount," or "Coupon" types. This blog post has any text message template you might need for your campaign.
Text Message Elements
Use this category of the table each time you are composing a text message. This way, you will be sure nothing important has slipped through the cracks. The rule of thumb is to attract the recipient's attention right from the start, provide them with something relevant and valuable, and urge them to take action.
Delivery Rules
To make the most of your texting efforts, it's best to apply the following delivery practices. Send no more than two to four messages per month. Bombarding your clients with texts can result in the drastic growth of unsubscribe rates. Avoid sending messages during working hours or at night; otherwise, the only response you'll get from your clients will be "OPT OUT."
Measuring Success
At this stage, you can find out if your text message campaign has been successful. You just need to pick the right metric. Let's say you sent out texts offering coupons. Your metric here would be the redemption rate: the number of people who have used the coupon divided by the total number of recipients. And if you wanted to grow traffic to your site and sent out SMS messages with the link to it, your metric would be the click-through rate.
Growing the Subscriber List
To ensure consistent results from your text messaging activities, it's important to continuously grow your list of subscribers. In the next category of the table, we have outlined the main ways to get new prospects to opt in. Pick several of them based on your industry and type of campaign. For example, if you are a restaurant owner, locate a sign with invitations to subscribe inside your restaurant and include them in the customer receipts. And if you have a web presence, put up a sign-up form on your website and mention it on your social media channels.
Types of Subscriber Segmentation
To get the best results, you need to customize the text message for each subscriber segment. The last group of elements in the table shows some of the basic types of segmentation. Choose one or more depending on your industry and type of campaign.
This is it! Why not try out the table in your nearest SMS marketing campaign?
---