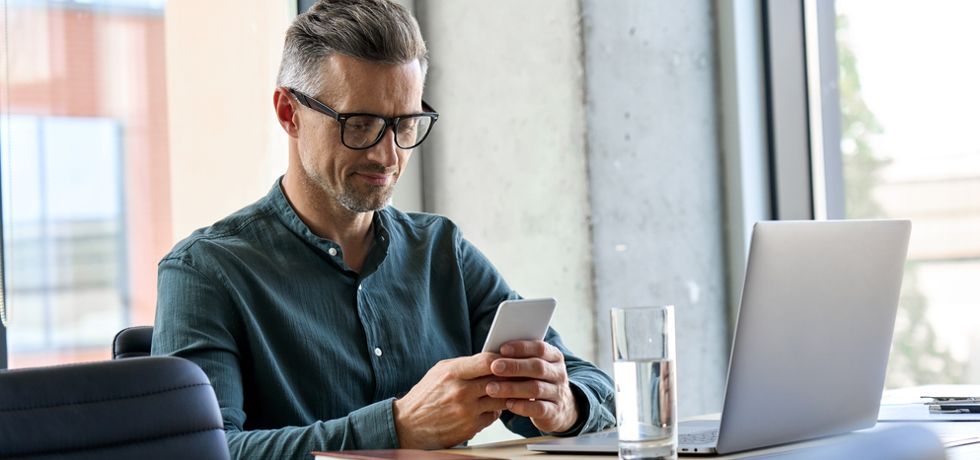 Text messaging has become a popular, effective marketing solution for businesses across various industries, and the versatility of texting allows it to be used for the benefit of many SMS sectors, including retail, healthcare, and education.
Texts have high open rates and response rates. Thus, the chances of having a successful SMS campaign are higher than other marketing techniques.
SMS marketing can help attract customers to your brand, improve customer service, enhance customer loyalty, and increase revenue. Here are ten industries that are making the most of SMS marketing:
1. Retail
The retail industry is one of the major sectors exploiting the benefits of SMS marketing. In fact, in 2020, a study by Juniper Research showed that retail business' messaging traffic would grow from 2.5 billion to 2.7 million within the year.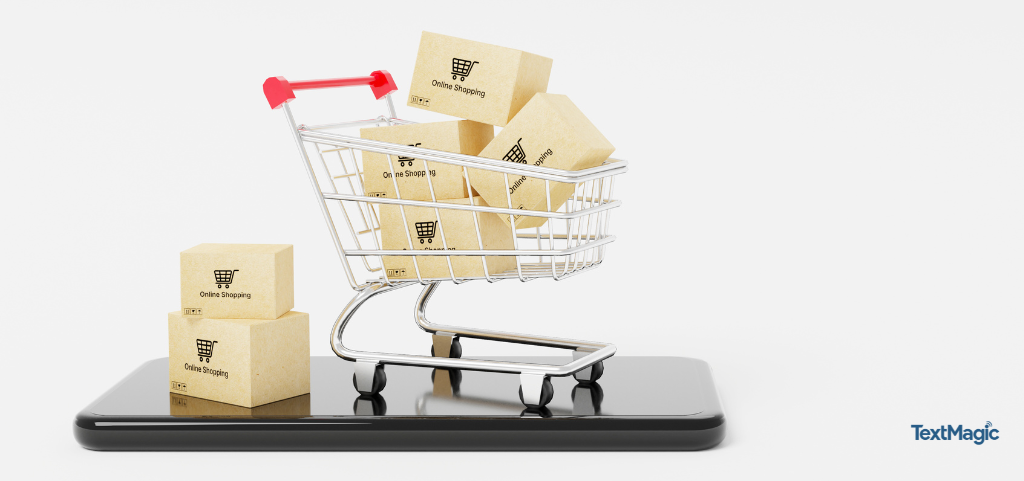 Nowadays, we see many businesses opting into SMS marketing and applying it in different ways. Below are some SMS marketing applications in the retail industry:
For promoting new products or discounts
To remind customers of abandoned carts
For flash sale notifications
Since many customers are often bombarded with retail SMS messages, you must make yours stand out. You can do this by adding elements that make the message more personalized and specific. For example, while promoting a product, you could add the customer's name or an informal greeting to the message. The text messaging examples below will help guide you when crafting your SMS campaigns for various purposes:
Promotions and discounts
Hi there, [Customer Name]! You have a 30% discount available. That's a chance to shop all your favorite products at an even lower price. You wouldn't want to pass this up. Shop now: [Link] Don't want to see these messages? Reply UNSUBSCRIBE to opt-out.
Abandoned cart reminders
Howdy, [Customer Name]! It's been quite a while. We noticed you haven't checked out your cart yet. Hurry, some items are almost out of stock! Shop now: [Link] To unsubscribe, reply STOP.
2. Hospitality
The hospitality industry has adopted text marketing as one of its main marketing techniques to secure customers. According to an Avochato study, 63% of people would switch to a company that communicates via text, so this technique is evidently effective.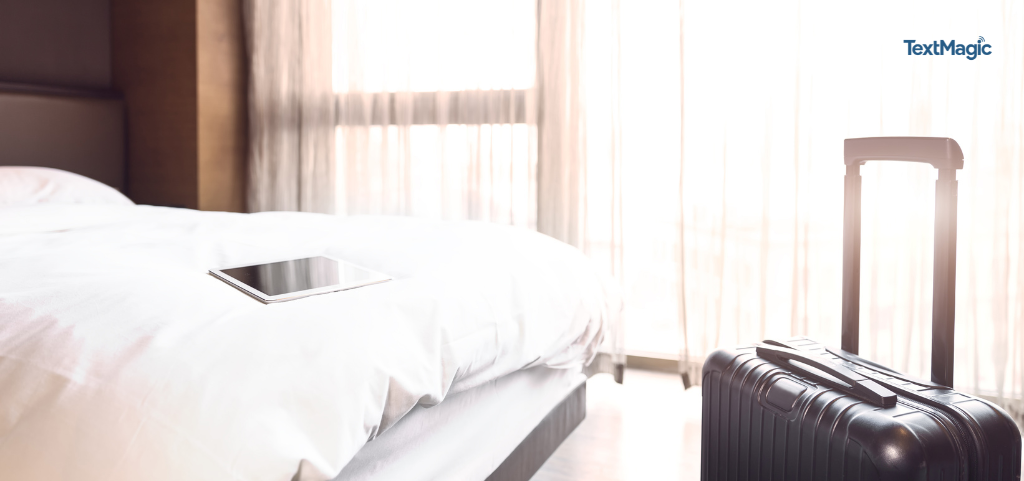 Businesses in the hospitality industry incorporate texting into their marketing programs by offering exclusive discounts to customers who opted into their SMS loyalty program. Here are some SMS marketing applications in the hospitality industry:
For reservations confirmation and follow-up
For bookings and orders
For room service confirmations
The last-minute nature of text message marketing makes attracting customers quick and effective. For example, restaurants can send promotions to customers right before lunchtime or at the end of the day when they're making dinner plans.
Here are some templates to help you draft an SMS campaign for your hotel or restaurant:
Reservations confirmation and follow-ups
Hurray, [Customer Name]! You just booked a reservation for [Reservation Details]. Be here by [Time] and get to choose the best seat in the house! If this wasn't you, reply CANCEL to cancel your reservation.
Room service confirmation
Hi, [Customer Name]. We got your requests and are currently working on them. Your room service will be with you in [Time]. Happy lodging! Any additional requests? Please send them to us.
3. Real estate
Like any business, the productivity of a real estate company highly depends on its marketing techniques. And while many marketers use emails for their campaigns, Statista records that 49% of these emails end up as spam.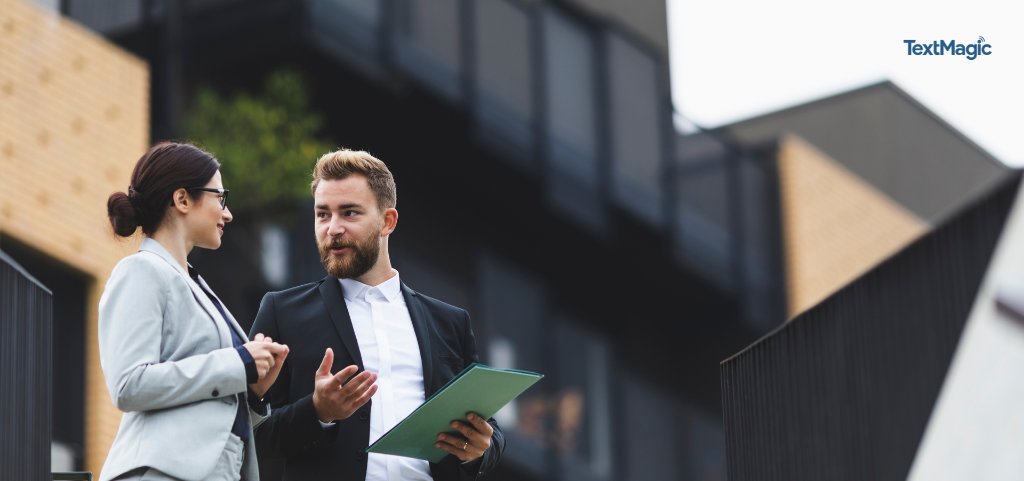 One of the many benefits of text marketing is that the texts can't end up in the spam folder. Rather, they reach customers directly. Hence, they are ideal for real estate companies. Here are some uses of SMS marketing in the real estate industry:
For sending out appointment reminders
To encourage new subscriptions to the company's customer database
This case study for Metrolina Realty Holdings LLC shows that text message marketing helped the company increase its conversion rates. It helped their agents avoid waiting for no-shows and wasting time sending voice notes to unresponsive customers.
Now, how you craft your SMS campaign goes a long way in determining how effective it will be. Not to worry, we have included some templates below to help you write the perfect campaign to improve your SMS conversation rates:
Appointment reminders
Hi, [Client Name]. You have successfully booked a property assessment appointment slated for [Date] by [Time]. Reply YES to confirm and NO to cancel. Need any help? Call [Phone Number].
New subscriptions
[Client Name], be the first to join the VIP subscription to our real estate newsletter. Get news, updates, and notifications for new property, discounts, and much more from the comfort of your phone. Reply VIP to subscribe now!
4. Finance
The finance industry is one of the major sectors applying SMS marketing. This is because around 75% of customers say they would rather read a text than check out a social media ad. Hence, to market their products, texts are more effective.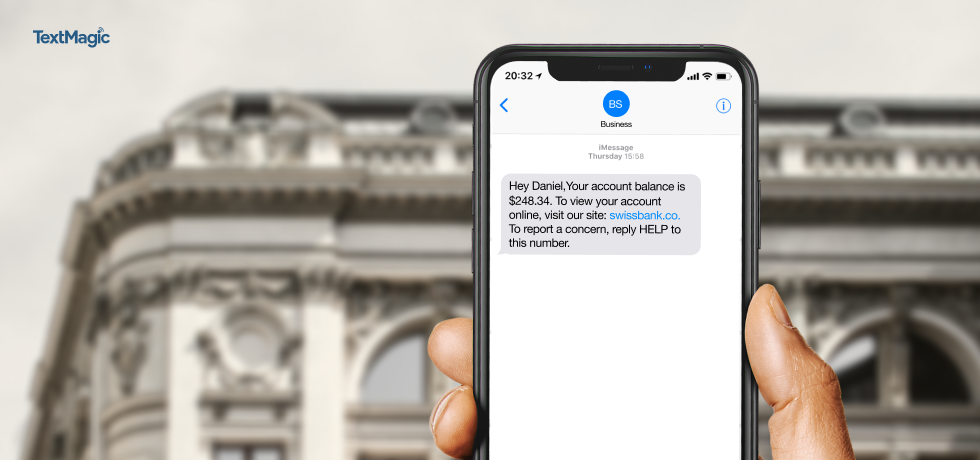 Banks can take advantage of texting to perform a variety of functions. We've listed some of these uses of SMS marketing below:
To increase customer security by sending text alerts when they spot unusual account activity
For sending account balance alerts
For informing customers of offers for loans and credit cards
Texting is also an excellent way of collecting on overdrawn accounts, as this case study shows. In the study, only 4% of fines were paid on accounts where no text alert was sent, compared to 33% of fines being paid on accounts with a text alert.
To help boost the effectiveness of your SMS campaigns, here are text marketing examples for businesses in the financial industry:
Suspicious activity alerts
Hi, [Customer Name]. We noticed some unusual activity on your account and wanted to confirm that it was you. To verify that it was you, reply YES. If it wasn't you, reply [Report Key].
Account balance details
Hey [Customer Name]! Your account balance is [Account Balance]. To view your account online, visit our site [Website URL]. To report a concern, reply [Report Key].
Notifications of overdrawn balances can also be sent via text. In fact, texting is an excellent way of collecting on overdrawn accounts as this case study shows, whereby only 4% of fines were paid on accounts where no text alert was sent as compared to 33% of fines being paid on accounts with a text alert.
5. Travel
SMS is the perfect marketing venue for the travel industry. That's because much of traveling involves last-minute updates and details. Hence, texts are ideal since they have high open rates and are usually opened within 3 minutes of being sent.
The travel industry adopts the following SMS marketing applications:
For online check-in notifications
For communicating delays and flight cancellations
For sharing flight information
Here are examples of SMS marketing you can apply as a travel company to improve the productivity of your SMS campaigns:
Online check-in notifications
Hi, [Client Name]. Thank you for choosing [Airline Name]. We are glad to inform you that online check-in for your flight, [Flight Number], is available now. Please, click the link below to check in [URL]. We hope you have a great flight.
Flight delays or cancellations
Dear [Customer Name], We apologize for the delayed response. Due to the unstable weather, your flight, [Flight Number], to [Destination], has been rescheduled. You can find the new flight details on our site [Link]. Once again, we apologize for the inconvenience and hope you have a great day. We look forward to hosting you and offering the best of our services.
6. Healthcare
Statistically, over 307 million people have smartphones in the US. This means the healthcare industry could have access to a large part of the world's population. There are various ways they use text marketing to their advantage. Some are stated below: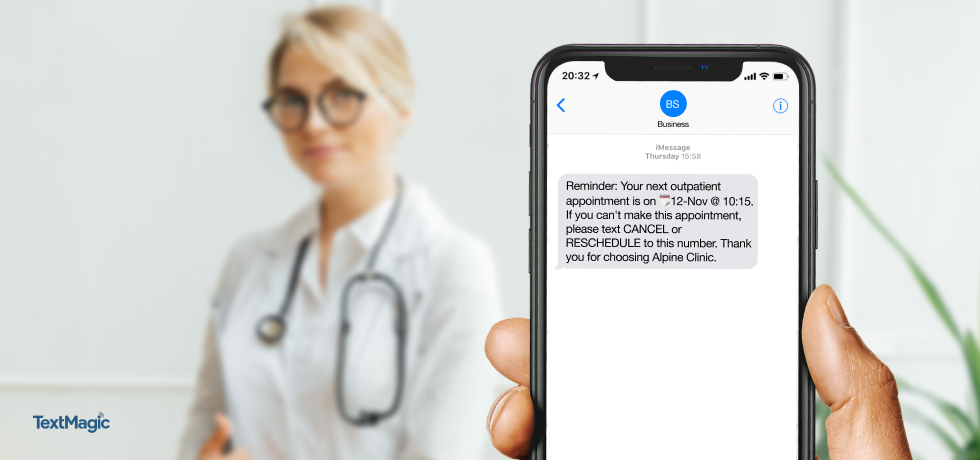 For appointment reminders
For sending clients helpful tips on maintaining good health
To encourage clients to book appointments online.
Medical Transportation Access Coalition (MTAC) records that the average amount lost for missed appointments in the US is 150 billion annually. However, with text message marketing, the health industry can reduce that cost by preventing missed appointments.
The following are some text marketing examples suited to the health industry:
Appointment reminders
Hello, [Customer Name]. This is a reminder that you have a dental appointment slated for [Appointment Date] by [Appointment Time]. We would love you to confirm your availability [Confirmation Key].
Health tips
Hi there, [Customer Name]. Did you know that carbonated drinks are associated with several health problems? [Company Name] advises supplementing sugary, carbonated drinks with fruits and healthy food. Want more health tips? Reply YES. Uninterested? Reply UNSUBSCRIBE to opt-out.
7. Nonprofit organizations
By utilizing the power of texting, nonprofit organizations boost charity event sales, awareness, and communication among staff and volunteers. For example, the ASPCA has used SMS since 2008 to improve pet care and raise funds for animal shelters.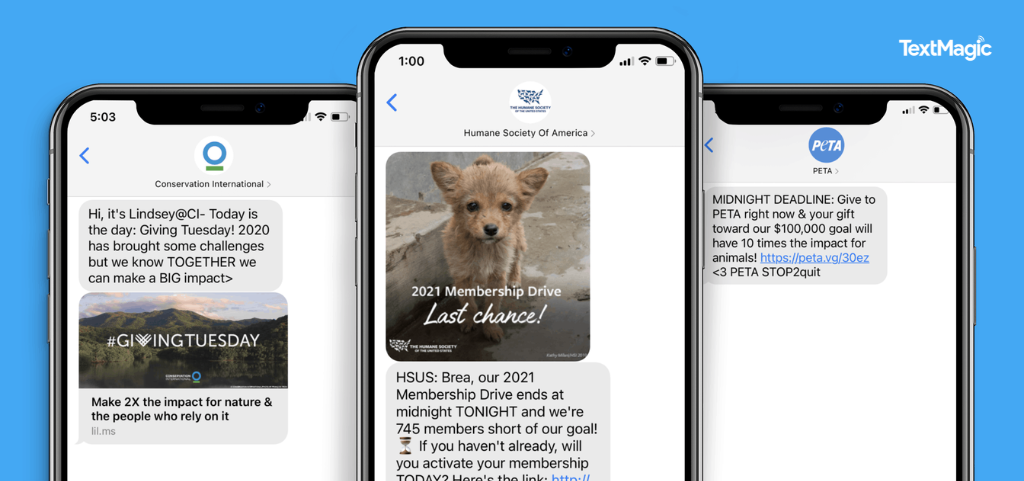 Below, we will list some uses of SMS marketing in nonprofit organizations:
To confirm actions on the nonprofit organization's website
To encourage donations and thanking donors
For event invitations and reminders.
Text-to-give campaigns have successfully raised funds for various causes, such as Walk for Autism, which raised around £84,000 for autistic patients. With text messaging, the organizers encouraged donations and kept in touch with fundraisers.
The best practice for nonprofit organizations is to send messages with varied content. In essence, don't make all your messages about fundraising: send messages to raise awareness and provide information. Here are some text messaging examples to help:
Action confirmation
Hello, [Client Name]. We noticed you [Action Performed]. We want to confirm that it was you who performed the action to ensure your account's safety. If it was you, reply YES. If it wasn't you, reply, [Report Key].
Fundraising campaigns
Hi there, [Client Name]. Summer is around the corner, and [Company Name] is looking to plant 1000 trees before it ends. You can join our cause by planting trees or donating to the project. Interested? Click this link to donate [Link].
8. Recruiting agencies and HR
Human resources departments and recruitment agencies have enjoyed positive results from using SMS to reach job candidates. Text message recruitment has become one of the most widespread SMS marketing applications in this industry. That's because the open rates for texts are much higher than for emails or voicemails.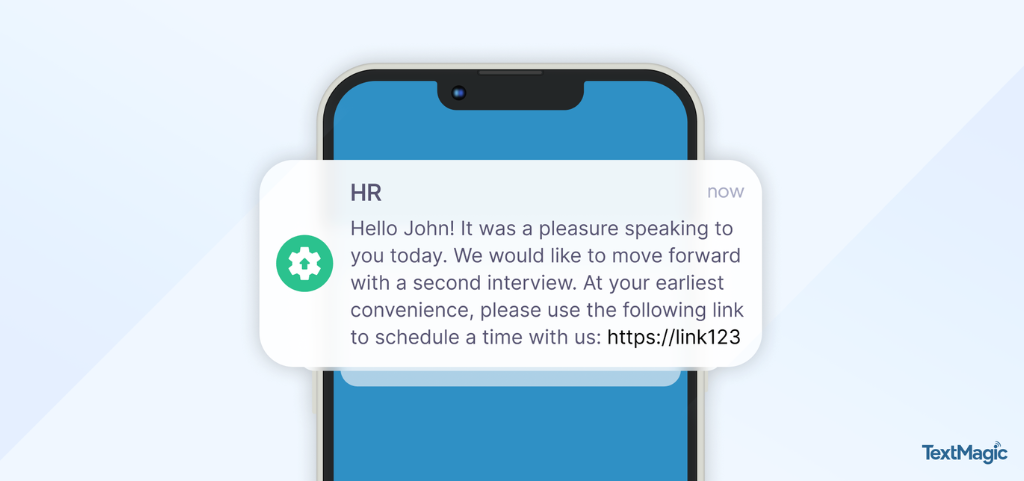 SMS is also a discreet way to contact a currently employed candidate. The following are some of the applications of text messaging in the recruitment industry:
For applications acknowledgment
For interview reminders
For interview follow-ups
Undoubtedly, incorporating SMS into recruitment has simplified the processes for both the recruiter and the candidate. However, for them to yield results, you must draft your campaigns properly. The following templates can help you achieve that:
Application acknowledgment
Dear [Candidate Name], Thank you for applying for the role of [Role] at [Company Name]. We have received your application and will review it within 48 hours. If you are selected for an interview, we will contact you. Warm regards.
Interview reminder
Dear [Candidate Name], This is a friendly reminder that you have an interview scheduled for [Date] at [Time] for the position of [Role] at [Company Name]. If you need to reschedule or have any questions, please reply to this message or contact us at [Phone Number]. Thank you and best of luck! [Company Name]
9. Beauty
Beauty salons, including hairdressers, manicure and pedicurists, tanning salons and massage parlours, are making use of SMS marketing to combat their industry's greatest challenges: slow days, no-shows and only one-time customers.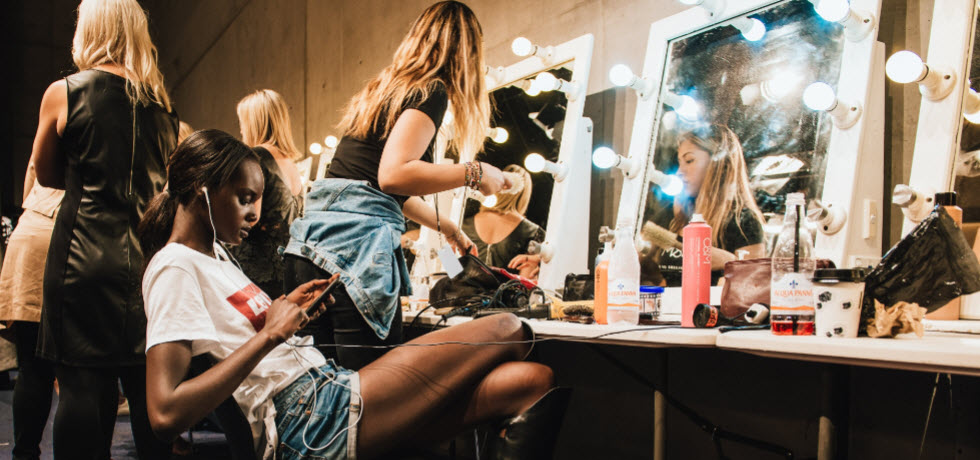 To curb these challenges, they can use SMS campaigns to:
Offer discounts to customers on slow days
Remind customers of appointments
Thank customers for patronizing the business
If it's a customer's first time, ask if they want to join your SMS loyalty program. To ensure positive replies, you can offer discounts on their next appointment. This also helps increase the chances of the customer returning.
After a customer agrees to join your loyalty program, the next step is to create an engaging SMS campaign for them. To help you achieve this goal, here are some SMS templates suited for the beauty industry:
Discount offers
[Client Name], we have some exciting news! For today only, we will offer a 20% discount on all our self-care services. Hurry to the shop now or book your appointment here [Link] to save your spot.
Appointment reminders
Hi, [Client Name]. You have an appointment by [Appointment Time] tomorrow. Remember to set a reminder so you don't miss it!
10. Insurance
In 2021, Statista recorded that people sent about 2 trillion SMS messages. This evidence proves that texts are widely common and, thus, great for emergencies. In fact, insurance companies can use texts to deliver messages to clients quickly.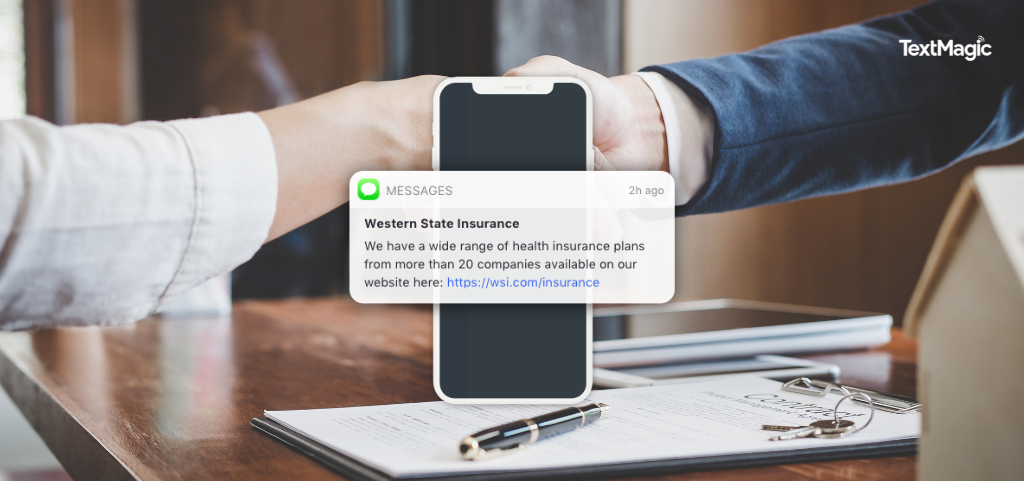 SMS messages can provide customers with detailed instructions and allow them to text questions to a live agent for an immediate response.
Here are some SMS marketing applications in the insurance sector:
For obtaining customer feedback on your services
To alert customers of promotions and updates
To remind customers to perform actions on the site
To remind customers of events
Launching your SMS campaign is faster and easier with a template. Below, are some examples of SMS marketing for the insurance industry:
Customer feedback
Dear [Client Name], Your patronage means a lot to us. We are constantly looking for ways to improve our services, so we would like to know your experience with us. How would you rate your experience with us on a rate of 1 (worst) to 10 (best)? Thank you!
Perform an action
Hello, [Client Name]. We noticed you were about to [Action]. If you're having problems performing this action, please contact our customer care via the website. Or reply [Help Keyword] to ask for assistance.
SMS solutions for every sector with Textmagic
No matter what sector your business falls in, SMS marketing is the ideal choice for you. You just need the right platform to get started. Textmagic is a versatile business texting solution that offers benefits for a wide range of sectors and industries.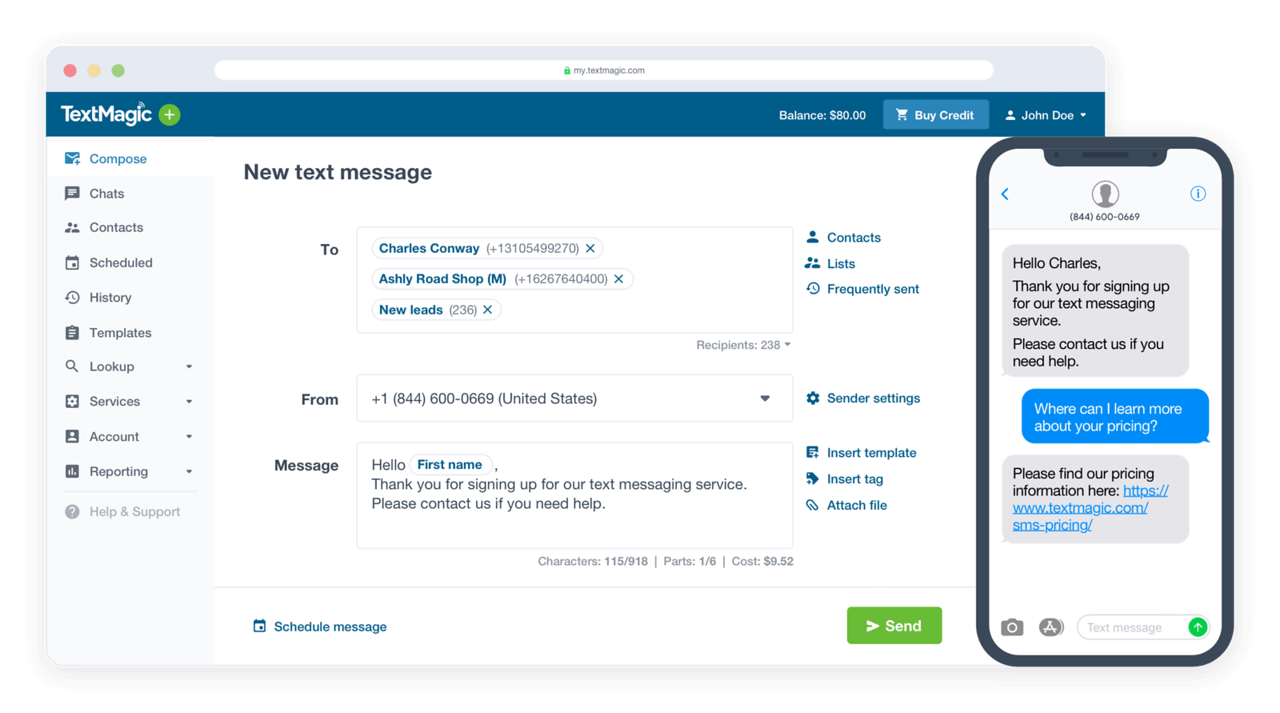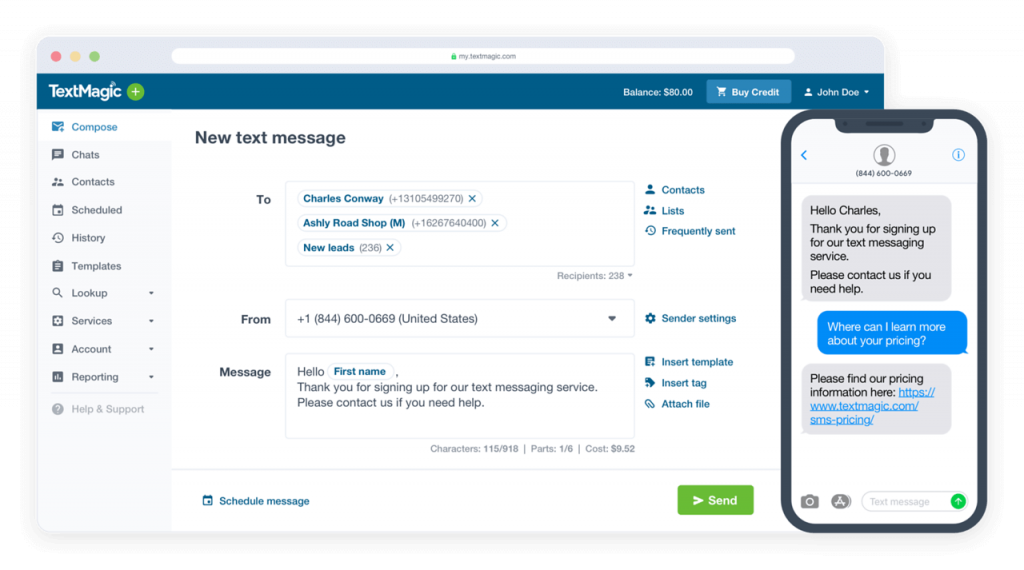 Some of the key benefits of using Textmagic for your business include:
Improved efficiency: Streamline your communication processes and save time by sending bulk messages, automating reminders, and tracking message history.
Better engagement:Text messages have an incredibly high open rate, making them an effective way to engage with customers and employees. Textmagic allows you to send targeted messages to specific groups or individuals.
Enhanced security: Our messaging platform provides encryption in transit (TLS), ensuring that your communications remain private and confidential.
Seamless integration: Textmagic can be easily integrated with your existing systems and software, making it a seamless addition to your communication toolkit.
Overall, Textmagic is a powerful and flexible communication platform that can help businesses of all sizes and industries improve their communication processes, increase engagement, and drive results. All you need to do is sign up and get started.
Try Textmagic for free. No hidden fees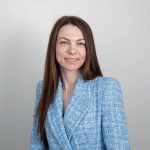 Alexa Lemzy
Customer support person. Interested in customer success, growth, marketing and technology. Passionate about content, reading and travel.
Get the latest news from us
Subscribe to our newsletter to get all updates to your inbox.
Related articles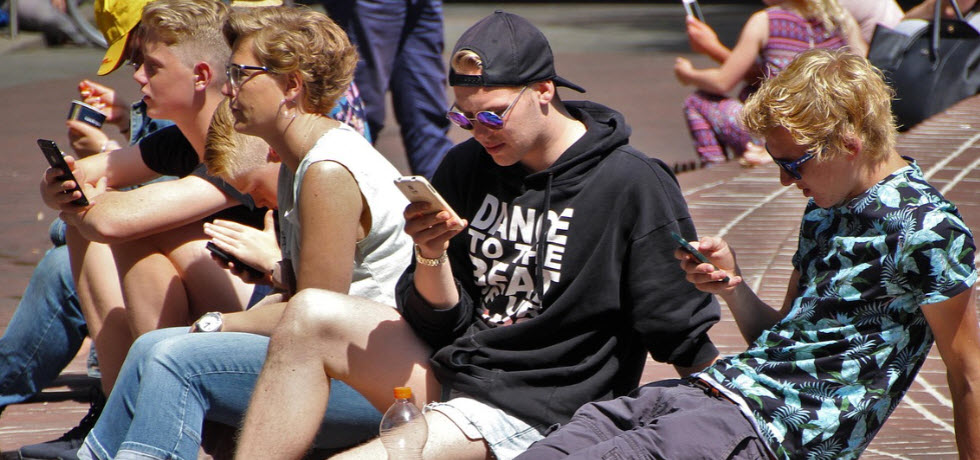 ---
---
---
---
---