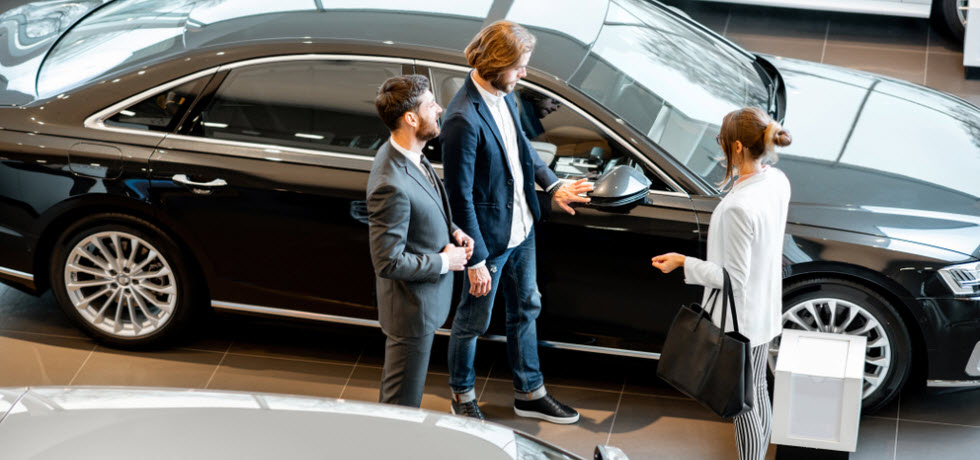 Leads are the lifeblood of your sales income.
Earning potential takes a nosedive without high-quality leads that can buy.
No leads = no sales = no commission.
And simply relying on your dealership's website to bring in the leads for you is a mistake.
Especially when you've got a floor full of other sales staff waiting to get the jump on you.
Handing out business cards and asking satisfied clients to "tell a friend" worked ten years ago, but it probably won't today.
So, where do you turn for high-quality leads that are serious about purchasing a car?
Here are four lead generation tactics for car salesman to close more deals in less time.
1. Push Prospects Down the Funnel with SMS Deal Updates
Getting people to take the first step in the car buying process is hard. They're reluctant to give you information because they don't want you to spam them with calls and emails for the next year.
On the other hand, you can't exactly stay in business without it, either.
This catch-22 is where most people stumble and resort to old lead generation tactics that don't work. Or they simply move in for the close too soon and lose the deal.
Compare the dwindling response rates of email or calls to text messaging, which is producing record open rates.
And the good news? People are receptive to it.
According to the latest data, SMS open rates are 98% (compared to a measly 20% for emails):
Response rates? 45% for SMS. And 6% for email.
Want more leads? Start collecting phone numbers and opting customers in for texts instead of email.
Consumers are actually in favor of this move, too, with 75% wanting to see SMS offers from businesses.

Once you have a customer's phone number, manage your lead list and message them with offer campaigns, including detailed personalization to make each customer feel nurtured:
Hi [First Name],
Show this message to [your supervisor or receptionist] at the dealership to get [offer regarding discount, financing, loan, etc]. Stop by the dealership before [coupon/deal end date] to take advantage of this exclusive deal!
– [your name]
When composing your message online, you can even create specific offer codes that allow them to be redeemed instantly at your dealership or online.
Continually schedule out text updates if your leads aren't coming into the dealership just yet. Assume they'll be slow to reply, and set up a 10, 15, and 30-day follow-up cadence.
You can also try pushing out new deals and offers, or the latest review on a model they were interested in.
Remember: SMS marketing is all about friendly, helpful conversation.
Combine a mix of personalized messaging and promotional offers to keep them engaged and interested. Leverage your SMS list to blast out offers and special promotions, too.
SMS texting is a friendly, low-risk way to connect with your leads without focusing too heavily on sales.
2. Address Pain Points by Scheduling Appointments Via Text Messaging
The majority of people who shop for new or used vehicles don't enjoy their experiences.
Why? There is a multitude of reasons ranging from the dealership itself, the overly-pushy sales staff, or simply stigmas that won't kick the bucket.
For instance, that overwhelming fear that consumers get when entering a dealership for the first time. They often have a fear that sales staff will bombard them as soon as their foot crosses the threshold. And all they really want is to take a look around first.
Or the stigma that going to a dealership is an all-day event due to bait-and-switch tactics.
While these stigmas aren't always true, people still dislike their experiences.
And the data proves it.
According to an Accenture study of 10,000 United States citizens, 75% of people said that they would rather skip the dealership and sales pitches altogether and make "their entire car-buying process online, including financing, price negotiation, back-office paperwork, and home delivery."
The study also found that consumers thought negatively of buying cars in person:
"For many, buying a car at a dealership is too much of a confusing, high-pressure, unreasonably long process."
A common theme in multiple studies is the overwhelming nature of dealerships and the feeling of being taken advantage of.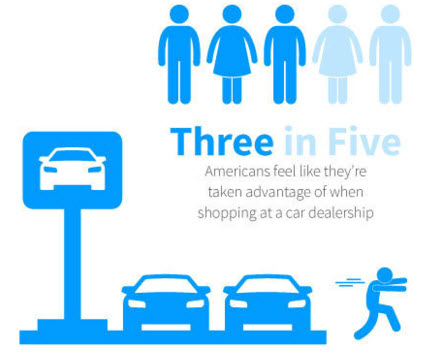 Similarly, Beepi Inc found that 87% of consumers dislike the dealership experience as is.
Simply put: people hate the current status quo. And if you can't continually get people in the door and keep them around, you aren't going to collect valuable leads that convert down the line.
So, how do you fix it? How do you make the experience better?
By focusing on the pain points listed in these studies:
Too salesy / getting swarmed by sales staff
A feeling of being taken advantage of
Takes too long out of the day
Too much waiting around
To avoid these pain points and virtually eliminate them from the customer experience, explore the idea of nurturing your potential leads via SMS.
More specifically, you can help them book personalized, individual appointments so that they never are bombarded or spend all day with a rep.
A common trend in these studies was the unfortunate experience of waiting around or being approached by a dozen salespeople.
Instead, let first-time visitors or cold leads know that they can set up appointments to test drive and view specific models directly with you — at their convenience — rather than having sales staff hovering like vultures, spying their every move.
Explain that if the customers just wanted to look on their own for the first visit that they can text you and book a specific calendar appointment where they can come into your dealership and you would greet them individually (rather than the rest of the eager greeters).
This removes the pressure of a first-time visit and allows them to become acquainted with your business. Plus, it means that the customers won't experience the overly pushy sales agenda that nearly everyone studied complains about.
Prospect Expert helps their car dealerships do exactly that by utilizing appointments via text messaging. They send automated updates to the potential buyer to ensure that they make it to the appointment.
The results? By using SMS to book individual meetings and prevent bad experiences, they've increased appointments by 60-80%.
Lead generation for a car salesman tip: Change the customer experience for your walk-ins. Allow them to book low-pressure appointments with you. Nurture them before pushing a sale and give them a more personalized buying experience.
3. List Your Vehicles on Facebook's Marketplace for Local Wins
Chances are, your dealership has its vehicles listed on their website, and maybe even a few other car-buying sites, right?
Right.
But the problem with listing it solely on your website is that you are relying only on organic traffic to your site.
And unless your dealership has an in-house marketing team with a great track record, generating a steady stream of high-quality leads can be tough.
To add to that, you likely have to pay outrageous fees to host and promote your listings with sites like AutoTrader and Cars.com.
That's not productive.
Meanwhile, social media networks can give you access to thousands of local leads that are looking to buy cars.
For instance, by using Facebook's Marketplace.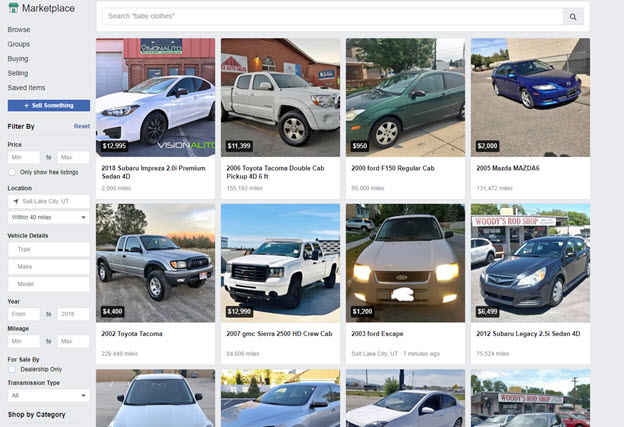 Within the marketplace, you can list excess inventory and interact with potential leads that view your page or reach out to get more information on the vehicle.
Just like dedicated car buying websites, you can list your vehicles with all of the information from make and model to year and mileage.
Users base their searches on locations within a given mile radius allowing you to capture only the best local leads.
Leads in your area can search for cars that they want and engage with you directly via the Messenger platform on Facebook: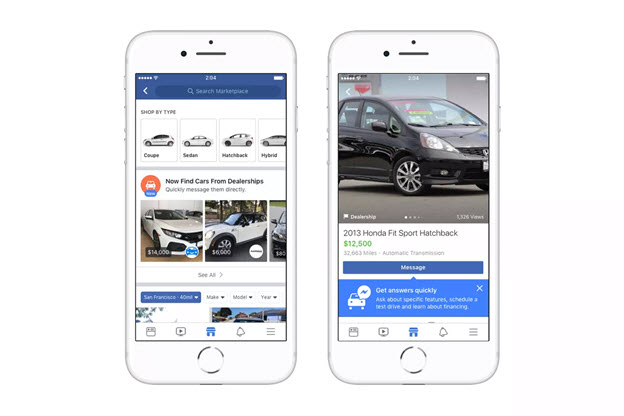 Messenger engagements allow you to have an open line of communication with potential customers and even message them in the future if they haven't bought from you yet.
When customers are browsing the Facebook Marketplace, they can message you directly with preset qualifying questions to show their interest.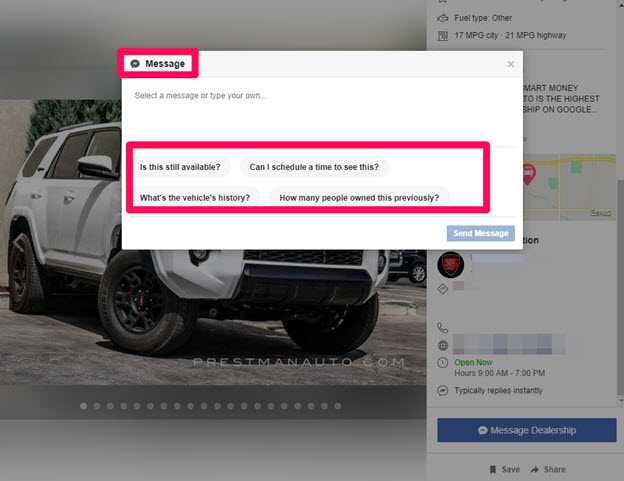 If your dealership has you handling specific inventory to sell, this can be a fast way to generate potentially hundreds of leads in your local area on a platform that is convenient to the customer.
The Facebook Marketplace offers great features and an even better communication tool to stay in touch with leads.
Want to move off Facebook? Get their contact information via Messenger and funnel them into the SMS techniques listed above.
What's next? It's your job to get them in the door.
4. Direct Mail is the Lifeblood of Lead Generation for Car Salesmen
When most digital marketing segments hear about direct mail, they do a double-take.
That doesn't work anymore. It's all digital.
But it's not true: direct mail is still alive and well, especially in car sales.
According to the DMA, more than 100.7 million adults in America made a catalog purchase in 2016 after receiving it in the mail.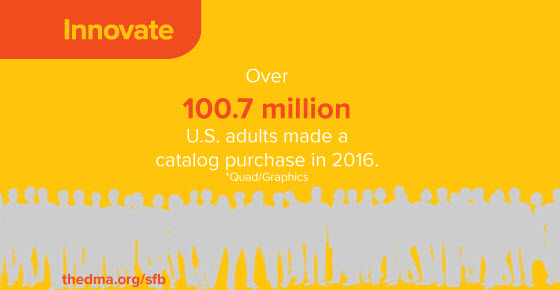 So much for a dying industry, right?
In terms of the automotive sales industry, direct mail can produce big wins.
One car dealership had the goal of increasing foot traffic from locals, test drive appointments, and total inventory sales each month.
Combining direct mail as the first touch with online and email as the second and third, they were able to generate email open rates at 35%. All while increasing sales by 18% month over month.
Similarly, RCI Financial car financing service utilized direct mail and online together to produce a 135% response rate lift and over 7,000 new customer sign-ups.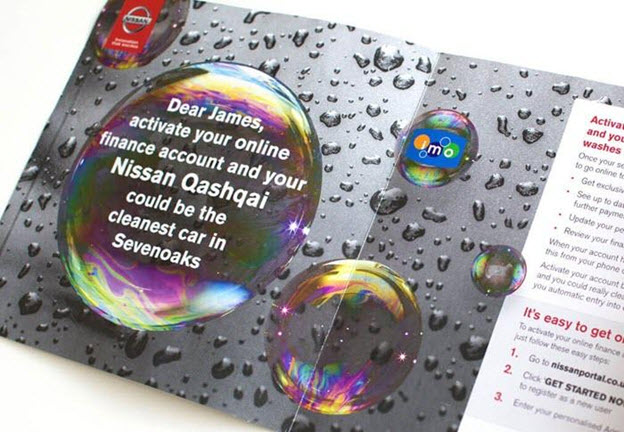 The problem is that most dealership or car sale direct mail pieces are junk.
Awful. Nobody wants to read them or take action.
Chances are, your dealership's direct mail gets a few sales here and there. But it's probably not a completely-reliable lead generation tactic for car salespeople.
Why? Because it focuses on generic selling tactics rather than combining the practice of offline and online marketing.
Just sending a brochure in the mail of your inventory is a good first step. But what action do you want the recipient to take?
Instead, create a landing page that you can use to display a link on your direct mail piece that funnels traffic.
Develop a fun landing page quiz to help them find the right car: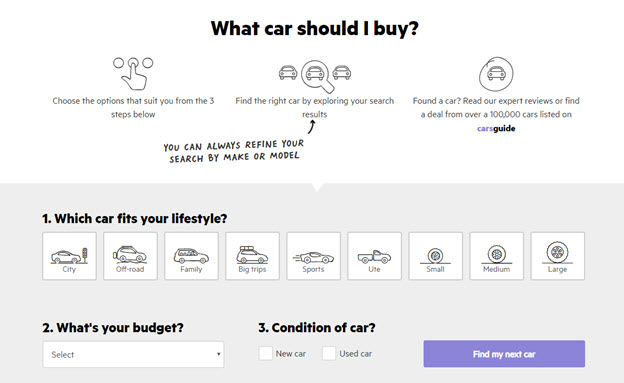 Or showcase content that consumers in your market are desperate to read: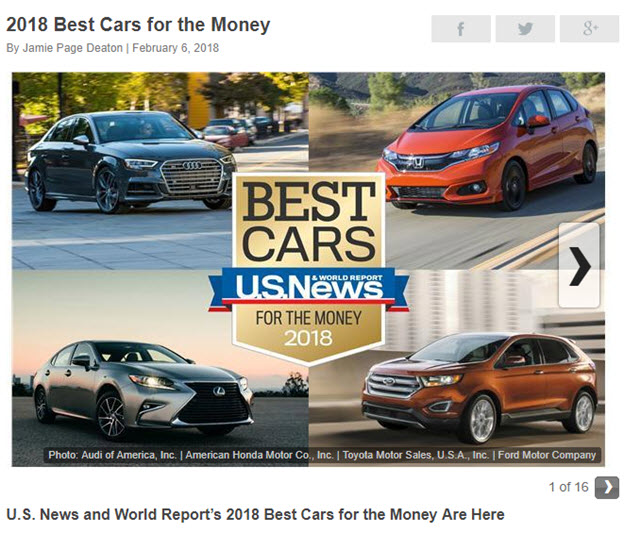 The options are endless, but the tactic is concrete: engage them with a less competitive medium (direct mail) and then drive them online to convert them into a qualified lead.
Conclusion
Generating high-quality leads is a necessary part of just about any business, including car sales.
A sustainable source of leads that you can hook, nurture, and convert will help you increase your sales and personal revenue.
But finding quality leads is harder than it sounds.
And competing for them amongst other sales staff when they walk through the door is tedious and negatively impacts the customer experience.
When it comes to buying cars, consumers are skeptical enough. To capture good leads, you'll have to get creative.
Start by hooking them in with deals and pushing them down the funnel using SMS texting. This helps to "warm up" your potential leads without being too aggressive on selling and driving them away.
Follow up on that by addressing their pain points and helping them book further meetings and appointments via texting.
List your vehicles for sale on Facebook's Marketplace, and you'll be able to connect with real accounts via Messenger or texting, too. Since it's local search engine based, you can find some amazing leads fast.
Lastly, improve your dealerships direct mail selling tactics to capture more leads.
Lead gen for car sales doesn't have to be about boring, outdated tactics.
In fact, it's often new tactics like SMS marketing that can put the most money in your pocket over the next thirty days.
---