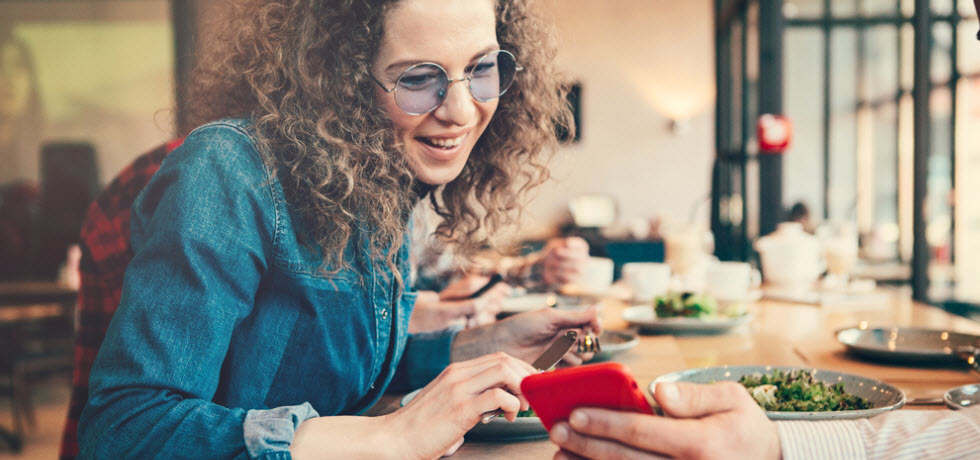 Whether your restaurant is small or large, as the owner or manager, it's critical to keep things running smoothly and your staff working efficiently, while handling any problems. And to do this successfully, you need to be fast.
We're here to help you gain that efficiency, why is why we've created six ways how to improve restaurant performance.
1. Build Loyalty Using Technology
According to an Oracle Hospitality Report, 65% of consumers are already members of one or more restaurant loyalty programs. All generations – Gen X, Boomers, and Millennials – have expressed a demand for loyalty programs.
Restaurant loyalty programs have been around for a while – but digital loyalty campaigns are just starting to see increased adoption.
A successful loyalty program is twofold: it must convey value to the guest, but it must also have a visible return of investment for the operator.
As guests are becoming more demanding – wanting personalized services, more indulgent experiences, and recognition for their payment – a loyalty program provides an ideal framework to meet those needs.
And it's the moment to employ SMS messaging for restaurant businesses. No customer wants to miss an exclusive deal that expires today because it got lost in their email inbox. So text the offer to your loyalty club members, to ensure they see it just in time.
Reward your customers with double points if they visit your restaurant two days in a row, or give five times the points if they invite a friend to join the loyalty program.
The more points your customers earn, the more they'll want to come back to earn higher scores (and benefit from more valuable rewards).
When you pair a loyalty program with a phenomenal customer experience, you are also creating a dream environment for repeat business.
2. Automate Time-Consuming Tasks
Sure, technology is great for improving customers' experiences, but it might make the life of your management team a lot better too. Employee scheduling, for example, is one of those time-consuming tasks that all managers battle with.
Employee scheduling software apps help managers quickly fill shifts and notify employees of open shifts via their smartphones. Employees can swap shifts amongst themselves and self-manage their time-off requests and availability within the app.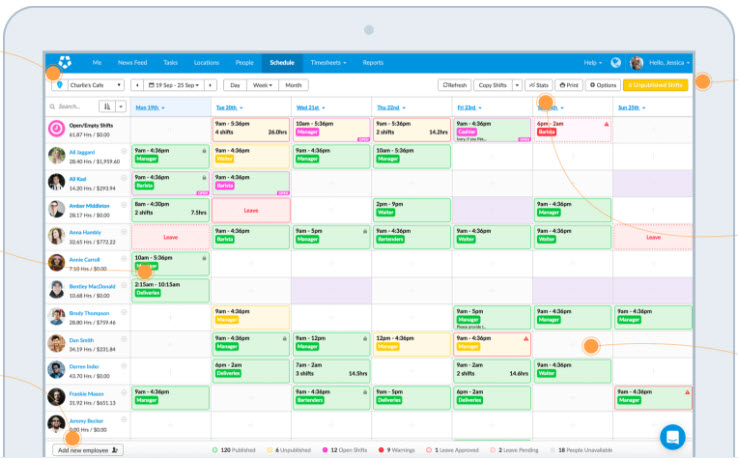 Streamlining the scheduling process allows managers to focus on the restaurant itself rather than the small details that keep it running. It saves time and makes the manager's job easier.
Yet, choosing complex software that requires intensive training can easily waste time for the manager and team.
Finding the right employee scheduling software that's intuitive and meets individual needs is just as important as getting away from Excel spreadsheets.
3. Enhance Communication
Introduce tools to streamline workplace communication. Apps like Deputy allow employers to send messages (to individual employees or to a whole team) in one easy step.
Whether it's a new roster, a change of meeting venue, or a callout to fill a shift, you can also get confirmation that your message was received and correspond with employees without the need for endless text messages, phone calls or emails.
According to Forbes, two of the top five reasons employees are unhappy at work are directly related to lack of communication. Efficient employee scheduling software with built-in communication features enables managers and employees to communicate restaurant updates directly and instantly with the team and to make sure schedules are quickly filled.
4. Make Improvements to Your Menu
Menu automation is one of the most tedious aspects of restaurant operations, especially in the case of multiple restaurant outlets. A digital mobile or desktop solution allows restaurants to tweak their menus and make them more cost-efficient.
Some restaurants are now using tablets, smartphones, or a touch-screen based kiosk instead of paper menus. This high-tech innovation lets customers see an image of the item they are about to order.
Another great feature is that digital menus allow you to change menu items and update prices instantly, without the need to reprint a new batch of menus. These solutions can also display interesting content that your customers can enjoy while waiting for their order.
Some tabletop solutions even let customers not only order the items they want but also pay for them without asking for the check. What's amazing about these restaurant technologies is that they aren't replacing personal service – only enhancing it.
Servers can spend more time engaging with guests instead of verifying their orders or running the bill back and forth.
5. Accept Mobile Payments
Following an exceptionally slow rate of adoption over the last few years, restaurant mobile payments are finally starting to catch on, particularly in the quick service industry.
Multiple operators have reported huge increases in their adoption of mobile payments. Starbucks saw 30% of payments via mobile and McDonald's will begin 2018 with mobile order and pay in 20k locations.
Mobile payments are just a starting point. Use and build those mobile payment systems in with your online menu system and make a way for customers to order and pay remotely.
That can cut a lot of time off individual tables, assuming customers even want to sit at a table to begin with.
6. Partner with a Delivery Service
Online food ordering has completely taken over the restaurant and food business. Demand for restaurant delivery is at an all-time high and will continue to heat up in the coming years.
Even if you already have delivery in place, a restaurant delivery service like GrubHub can help you extend and optimize your delivery service.
Using a third-party delivery service at your restaurant is also an excellent way to attract new (especially Millennial) customers. The new generations value convenience and instant accessibility over cost, so they're a goldmine for restaurants with delivery services.
Offering restaurant food delivery through services like GrubHub, UberEats, or Postmates exposes your brand to a wider range of potential customers. Using their ordering infrastructure and delivery fleet, these services give even the smallest restaurants the ability to offer delivery.
Don't neglect these helpful tech developments! Try out the tips we've mentioned above and enjoy more peace of mind.
---