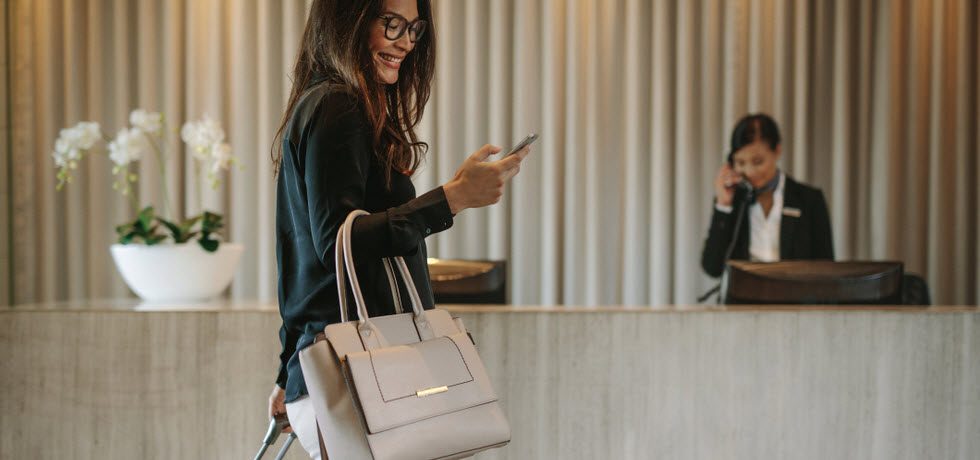 Smartphones have radically changed our day-to-day lives, including how we travel and book hotel rooms. Of all hospitality advertisement dollars, 63% are spent on mobile marketing, and this number increases yearly. Some hotels haven't adapted to this new reality yet, while others know they need to but aren't sure how.
But when you look at what's working across the industry, it's clear that it's time to learn how to adopt a mobile approach. Just look at Hilton. The hotel giant says its mobile app is responsible for 20% of its bookings.
Across the hotel industry, the number of bookings done through mobile apps is a little over 33%. This means that as someone in the hospitality industry, you need to have a mobile marketing plan.
Why Hotel Mobile Marketing is Important
Using smartphones and tablets has become second nature for most people, especially when traveling. GPS shows everyone where they're going, and people are only a "Hey, Siri" or "Okay, Google" away from any answer they need. Google's own research has shown that 70% of travelers will use a mobile device to find and book a room when on the road.
"Where is a place to stay near me?" is one of those frequently asked questions. Smartphones have eliminated much of the need to book a room days or weeks in advance. The biggest reason for this change is that travelers can go for as long as they feel like and find rooms, rates, and reviews for places close by with just one search.
What You Need to Get in the Mobile Loop
A Mobile-Friendly Website
With more people performing searches on their mobile devices, it only makes sense that any hotel's website should be mobile friendly. This is an essential aspect of hotel mobile marketing for two main reasons.
The first reason is user experience. When people are looking for something on their phone, they want it to be a smooth experience—and they want it to be fast. 47% of users expect a site to load on a mobile device in under two seconds. Any slower, and almost half of them bail and search elsewhere. If a hotel's website pops up on someone's phone and it like trying to watch a movie through a paper towel tube, they will jump off that site and look somewhere else.
The other main reason is that Google pushes websites farther down in the results if they aren't mobile friendly. It doesn't matter how relevant the content is, how good the SEO is, or how amazing the reviews for a hotel are.
A website must do three things to be considered mobile friendly:
It must be dynamic serving, made using responsive web design, or it must use two separate URLs so the main page automatically redirects to the mobile page.
It must be visible to search engines. Some sites developers get so caught up in security that their sites become invisible to Google. Never block search engines from connecting with critical parts of a website, such as JavaScript, images, or ads.
It must avoid features or content that rely on Flash. Flash doesn't work on most mobile devices, and Google will push sites down because of this.
Mobile SEO goes beyond keywords and relevant content. In short, not having a website that conforms to Google's standards for mobile versions is virtually the same as not having a site at all for people using mobile devices.
Online Reviews
When it comes to online reviews, the more, the merrier. The more reviews a property has, the higher its ranking will be in search results. The biggest reason hotels use online surveys is the crucial role they play in getting someone to stay. People put more faith in customer reviews than any clever slogan or slick piece of advertising.
Hotels should encourage regular customers and guests who have had great stays to post reviews. Hotel Yadanarbon, a budget hotel in Myanmar, once got listed as the number one destination out of 36 just by placing tent cards in each room asking guests to write reviews. It doesn't matter where the review is posted since Google rounds them all up anyway.
Another reason a hotel should encourage its satisfied guests and regulars to post good reviews is that bad reviews are inevitable. Mistakes with reservations will happen, new housekeepers will forget a step in cleaning a room and leave an unpleasant surprise for a guest, and even the best office staff will have off days. So it's nice to have a couple of extra positive reviews up your sleeve.
Texts and Chatbots
One tool in a hotel's mobile marketing arsenal is text messaging. When a guest checks out, send them an SMS message asking them how they enjoyed their stay and if they would leave a review. The text could also include a survey to obtain more extensive feedback.
A hotel can also send a link to any reward program they are a part of and ask customers to sign up. Extra reward points are also a great way to generate online reviews from customers.
Text messages are a great tool to use for repeat customers, especially if they have a hotel's app. Aside from the usual push notifications, AI-powered chatbots can directly engage with customers.
For example, when customers are close to or traveling towards a hotel, the chatbot can check the mobile device's location and send a text to the guest offering a free room upgrade or discount if they stay that night; the chatbot can even allow the guest to make a reservation.
Chatbots can also do other tasks, such as answer questions travelers might have and actively sell rooms to people on the road while the hotel staff focuses on guests who are already at the hotel. Marriott used chatbots to handle guest requests for 44% of their rewards members across 4,700 locations.
Conclusion
With increased competition from peer-to-peer services like Airbnb, hotels need to leverage every advantage they have to convert as many potential guests into loyal customers as possible. Mobile devices are where this happens. When a person searches for rooms on a mobile device, it's likely that they have already made the decision to purchase a room. It's up to the hotels to get noticed and close the deal.
---