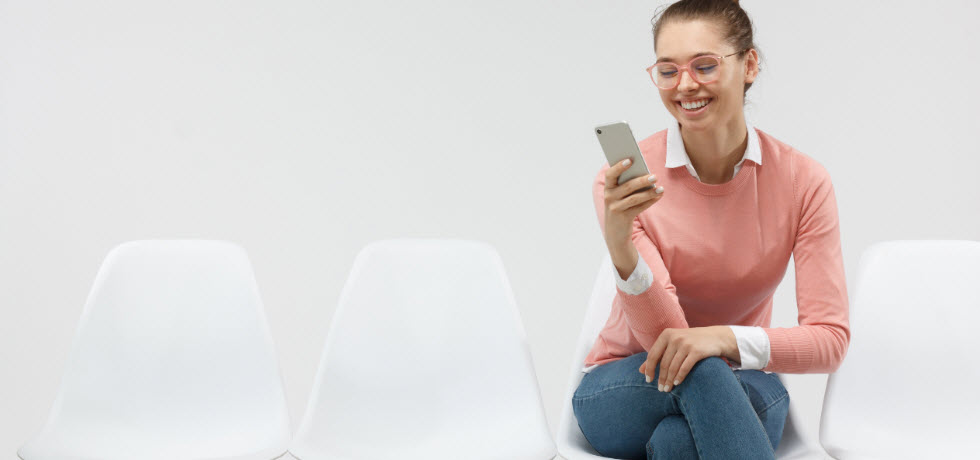 It's been a long time since I've been to a restaurant that handed me a buzzer to let me know when my table was ready. Receiving a text is so much more convenient because, let's be honest, I'm probably looking at my phone so much already that there's not a chance I'm going to miss the message.
The same can be said of getting texts reminding me that my daughter has an orthodontist appointment coming up, or that the dry cleaning will be picked up the next morning. The truth is, text messages are less intrusive than phone calls and can be responded to at our leisure, which is why they've become a preferred method of communication among millennials.
So many of us spend a significant portion of our days engaging with our phones that a business that doesn't capture attention there misses out on a lot of opportunity.
More than just convenient, using short messaging services (SMS), more commonly called text messaging, has become a smart way to do business. Not only does SMS improve visibility, but it's easy to use, gets your message across succinctly, can be personalized, has a lower security and spam risk, and has direct response capabilities.
With all of these advantages, how do you build text messages into each stage of the sales funnel? Let's take a look.
Text to Engage
It may not be obvious, but you can use SMS at the top of the marketing funnel. When you're bringing in leads, your marketing is going out on all different media. Begin to add texting to each type.
Update the marketing collateral you already have with ways to reach potential leads through texting. For example, ask them to text you for a mobile coupon, to enter a contest, or to receive a free e-book.
Interest in top-of-funnel (TOFU) marketing material signals interest in what you have to offer, so add their number to your CRM software and start tracking that lead.
SMS to Capture
Now that you have a lead in the funnel, you'll want to nurture the lead so that they become a customer. You can do this only through building a relationship. Engage and keep in touch with them.
The difference with texting, however, is that you won't nurture and stay in touch the same way. With email marketing, it's common to reach out to leads as often as every day. With SMS, you'll need to keep in mind that most people don't want to hear from you via text nearly as often.
Data shows that most people only want to hear from a brand a maximum of twice a month, so only send valuable content.
Understanding that you only have to send marketing materials when you have something really important to say opens up a lot of free time to actually come up with those really important deals.
Maybe, instead of jumping right to a sales pitch, send some informative and time-sensitive content that shows your product solves the customer's problem—or presents a solution to the problem they may face soon!
Close
Texting can be a great way to convert a lead into action: sending out offers and deals, running contests, and reminding them of events. Whatever you do, include a call to action (CTA). They need to know to do something after they receive the message.
A call to action points the lead toward engagement with your brand, whether it's sharing a cool video, taking an online survey, or downloading an e-book. SMS messages let you send links right to a lead's phone, where they're probably looking at online content anyway!
Another great way to maximize texting at this stage in the sales funnel is to ask them to take action on something that requires a timely response. This is where you would want to offer deals that will expire quickly so that people are motivated to make a decision right away.
The key here is to offer products related to what the lead has already shown interest in. Personalization like this requires a bit of list segmentation, but it pays off because each lead is more interested in what you offer in the texts they receive, and therefore more likely to buy.
Grow
The way we think about customer retention looks different today than it did just a decade ago. It's no surprise that more customers are engaging directly and uniquely with brands when it comes to service.
Just take a look at the efficacy of Twitter as it relates to handling customer concerns. Use short text messages to get current customers interested in new or rarely-used products, to encourage them to become active in a customer community, or to ask them to give you feedback on your services.
People don't buy based on logic or price only, they buy based on emotion, which is why businesses being able to interface with customers through text is so valuable. Connecting directly in that way makes customers feel good (and doesn't take up a lot of their time!), keeps them coming back again and again, and makes them more likely to refer you to their friends and family.
Incorporating text messaging within your sales strategy not only improves visibility, is easy to use, and clearly and quickly gets your message across, but it can also be an integral part of bringing in and nurturing leads, growing your customer base, and building your brand.
---