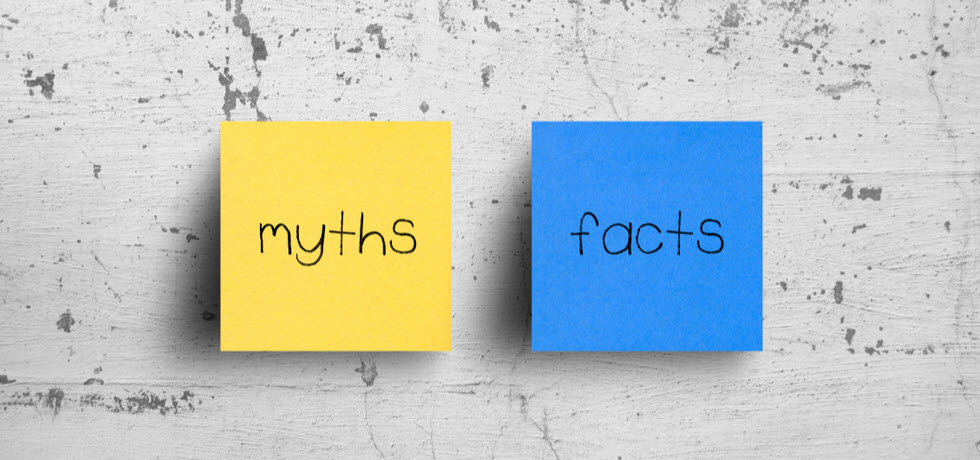 Remember when people thought social media would replace email? Or when people avoided using "spam words" in email marketing? Myths circulate in almost every industry, but none more so than the field of marketing. And whenever there's a new marketing channel, marketers are quick to spread misinformation.
The same holds true for the world of SMS or text message marketing. Despite the clear benefits of message marketing, companies are slow to adapt. Why? Because they misunderstand the fundamentals of the platform.
In this article, we'll debunk some of the top myths about SMS marketing and uncover the most common text message marketing misconceptions.
Myth 1: Text message marketing is less effective than [insert another marketing channel]
They say "email is better than SMS" or "stick to social media instead." In reality, text messages continue to dominate our lives. Consider this: not everyone will have a phone connected to the Internet. But almost every phone will have texting capabilities. That's why SMS is so popular — because it's on every phone device.
Want some hard statistics? According to Business2Community, text messages have an open rate of 99%. Email? Only 28-33%. By far and away, people will open more text messages than emails. They're just more personal and to the point than an email.
Truth: SMS has one of the highest open rates and engagement levels compared to other channels.
Myth 2: Only Millennials and Gen Z use SMS messages
These text message marketing misconceptions are the one we hear most often, usually from a baby boomer or Gen Xer. Companies then forgo SMS in hopes of reaching a younger audience through social media. A missed opportunity, to say the least.
Based on a study from the Pew Research Center, adults are actually catching up. In Canada, 43% of people aged 50+ have a smartphone. In the U.S., 67% have a smartphone. Check out this image courtesy of Pew: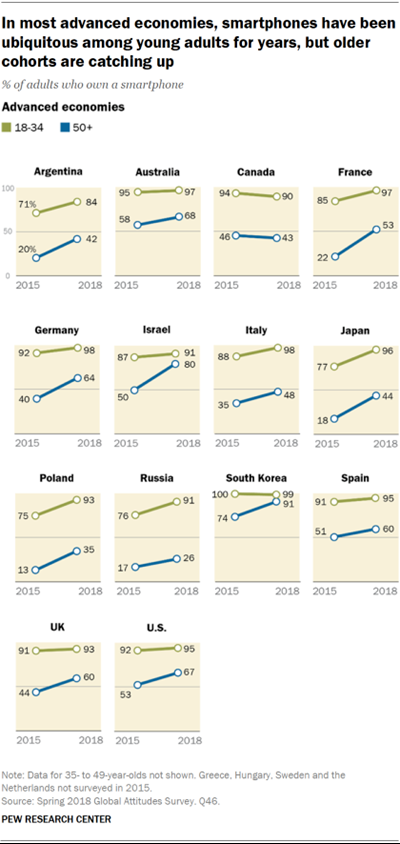 Not what you thought? Don't worry, you're not alone. Older people are often considered less tech-literate than younger people. But that doesn't mean they don't use text messages!
Truth: Gen X and Baby Boomers also text, only not as frequently as Millennials or Gen Z.
Myth 3: Customers see promotional texts as spam
Here's the thing: you'll find spam on any channel. Doesn't matter whether it's by email, social media, calls, TV or whatever tomorrow will bring. Spam isn't a channel problem, it's a messenger problem. You shouldn't blame text message marketing. Blame your marketers instead. They're the ones that failed to grab attention in a natural and convincing way.
Remember this statistic: 75% of people would like to have offers sent to them via text. Put yourself in their shoes: wouldn't you rather receive a quick promo message than watch an ad or get an email? These offer messages are short, quick, and don't take up space. Far less intrusive than a pop up in the middl of a website.
Truth: One of the biggest text message marketing misconceptions is that it's a form of spam but in reality, spam is everywhere. If you don't want to be considered spam, don't write spam.
Myth 4: Text message marketing just isn't worth the time or effort
Even when a company sounds interested in message marketing, they'll second guess its value. They'll compare it to previous marketing channels, or rely on preconceived notions. These include long training hours, expensive setups, and complicated software.
But today, SMS tools have made it easier than ever to send messages in bulk. You don't need an SMS team or a trained text message marketer. A couple of training sessions is all you need to get up and running. As for cost, message marketing pays for itself.
One report revealed that 79% of smartphone users rely on an SMS opt-in for making purchase decisions. It also found that 52% of users contacted a retailer directly using their smartphones.
Stats like these show how big of an opportunity there is in SMS marketing. When done right, text message marketing can also be less time consuming than designing beautiful emails or recording a video ad.
Truth: Text message marketing is more profitable than one would think. It's definitely worth the time and effort.
Myth 5: SMS marketing is a one-way channel
It's easy to think that most marketing messages are read-only. But remember—they are designed to be a two-way street.
In other words, SMS isn't only for sending coupons, or news updates. SMS works for text surveys, confirming appointments, or sending quick information. Once your company blasts out a text message, you also have the option of allowing your users to respond. Even if not everyone does, the messages they send back can provide useful information.
For example, you may want to hold a volunteer event for a local charity. Instead of emailing your team, hoping some will reply, send them a quick bulk text message. Not only will they appreciate the more immediate way to RSVP, but they'll also get reminders for the event.
Truth: People can respond to marketing SMS. This is useful for taking surveys, asking questions, or checking event attendance.
Myth 6: SMS marketing is only for big brands with big budgets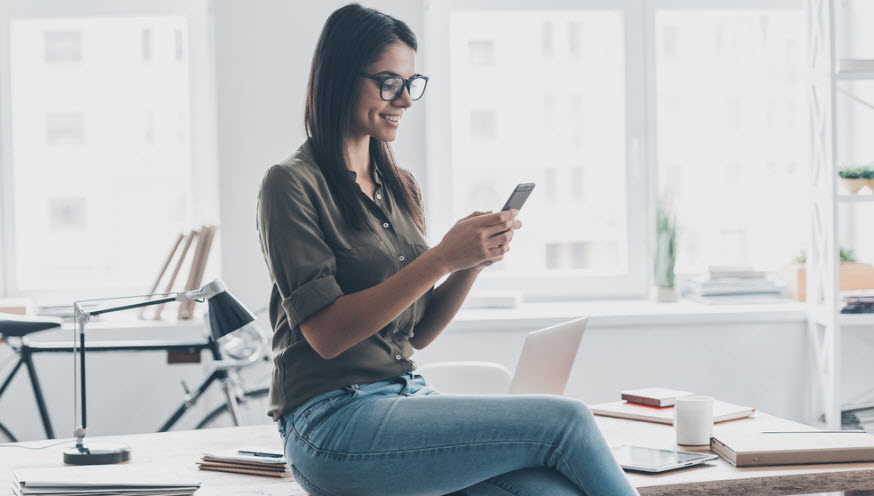 Most businesses mistakenly think that SMS marketing is only for big companies with large budgets. Nothing could be further from the truth.
SMS marketing works for businesses of all sizes — whether it's a small mom and pop shop with a couple of employees or a large enterprise. In fact, studies have shown that 84 % of small businesses who invest in mobile marketing see immediate and long-term benefits.
The most common benefits include better customer service and improved open rates. Another advantage of SMS marketing is that it allows businesses to follow up with customers after they make a purchase. This will enable them to learn out more about the customer's needs and wants.
Truth: SMS marketing benefits all types of businesses. It's not only for large enterprises with substantial advertising budgets.
Final thoughts about text message marketing misconceptions
Separating the myths from reality is the first and most crucial step to creating effective text message marketing campaigns. You don't want text message marketing misconceptions to get in the way. Instead, focus on designing an SMS marketing plan that fits your goals and budget.
With the right strategy in place, you will see improved ROI and better response rates from your customers.
---